Wholesale Fabric Suppliers
LeelineSourcing can be your best business partner in getting hassle-free sourcing services. From sourcing to shipping, your project will be handled smartly to save you time and money. Additionally, you will receive updates 24/7 whether you choose dropshipping, private label, or wholesale services.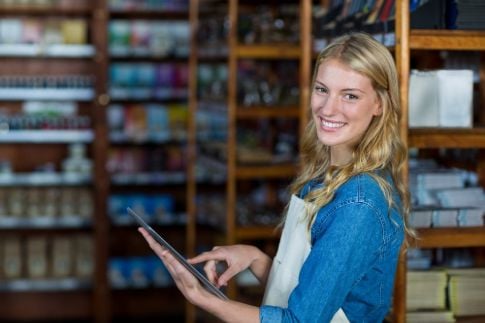 Top 1 Sourcing company in China
With 10 years of experience in china sourcing business
No Risk Free Sourcing No Hidden Fee
You can get Free detailed product quote before order
Trusted by over 2000 Customers
Leeline is your trusted sourcing agent partner in china
Wholesale Best Fabric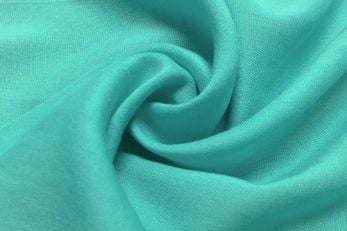 Wholesale Apparel Fabrics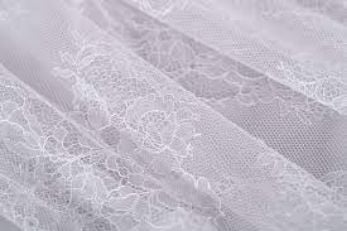 Wholesale Bridal Fabrics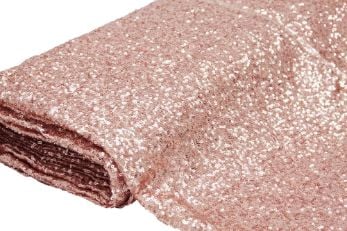 Wholesale Sequin Fabric
---
Wholesale Silk Fabrics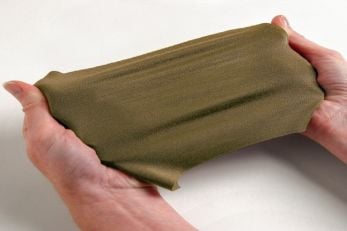 Wholesale Stretch Fabrics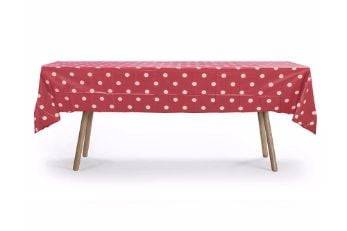 Wholesale Tabletop Fabric
---
Our Fabric Manufacturing Services Include: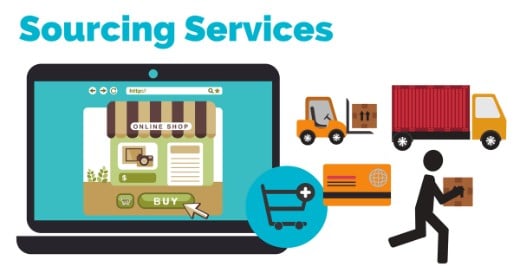 Sourcing Fabric Suppliers
LeelineSourcing streamlines services, making procurement time shorter for you and making the delivery process accessible. We will do product sourcing for best-selling products that can generate revenue. There will be no hidden fees, and you will get all services on a low budget.
Fabric Quality Control
Your products will be double-checked for quality at the factory and then at our warehouse. Your packaging will be done again nicely and sturdily to make your customers happy.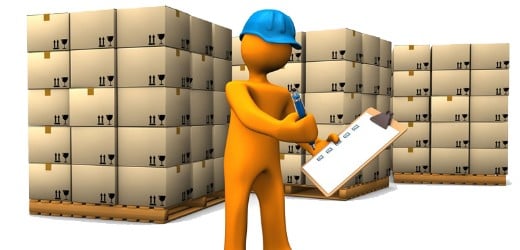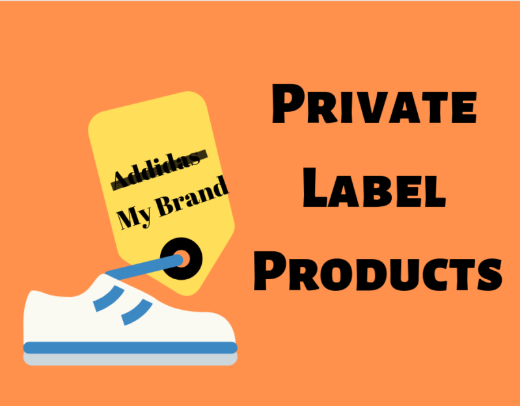 Private Label & White Label Fabric
LeelineSourcing's skilled team will surely help you market your brand with stunning photography and videography. In addition, you don't have to pay an extra fee for customized products; you will get your dream products at market-competitive prices.
Dropshipping and Fulfillment
The hassle-free drop shipping service provided by LeelineSourcing will make your drop shipping experience easy and convenient. You can drop ship your products and build your dropshipping brand through our tailored services.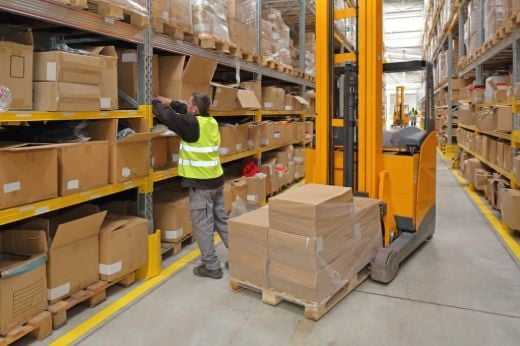 ---
Hear it from fellow Fabric Wholesaler
My investment was very low when I contacted Leelinesourcing, but I got highly personalized services. Their quality and turnaround time is very appreciable, and now my little investment is converted into great revenue through their great brand-building strategies.
– Richard, USA
---
Source Your Fabric and Make Big Money
We offer the best wholesale price and high quality fabric to help you boost your business.
---
Top 16 Wholesale Fabric Suppliers In 2023
The global textile industry is one of the largest manufacturing industries in the world. According to a recent study, the textile industry was valued at USD 993.6 billion in 2021. The industry has been growing at a CAGR of about 4.0% from 2017 to 2022.
There are several types of wholesale clothing suppliers. As a matter of fact, the list of fabrics wholesale providers can vary depending on the kind of products that you want to sell. To assist you our 10 years of product sourcing expertise team put up the top 16 wholesale fabric suppliers in 2023.
Whether you want to start selling wholesale cotton or looking for wholesale silk, you should check out these 16 best wholesale fabric suppliers. Scrolling down.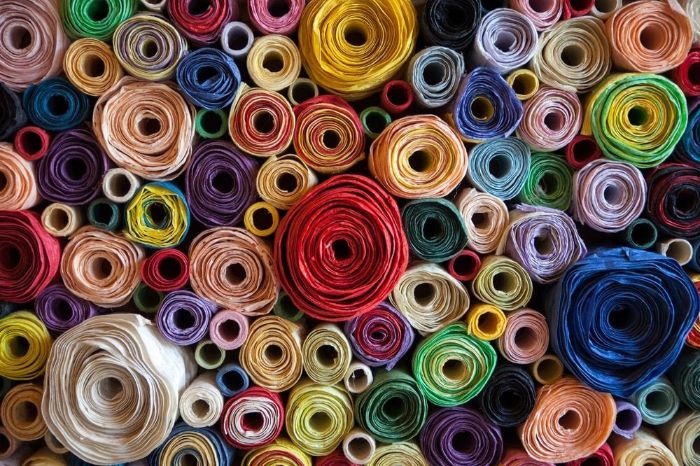 1. Berenstein Textiles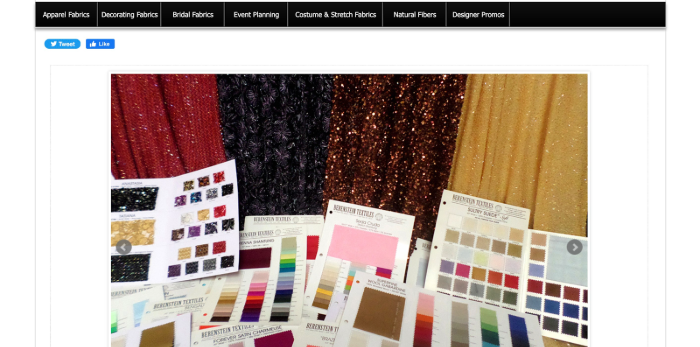 Polina founded Berenstein Textiles at the NYC garment center in 1993 and decided to launch a company to cater to the needs of wholesalers. Since the company's inception, they have been at the forefront of the textile industry.
As their business grew, so did the team's customer base and the range of products they offer. Berenstein Textiles has grown to become one of the most reliable wholesalers in the United States.
They SHIP FASTER LOCALLY. That is why I use them to get the products faster. Their DAMAGING RISKS are very less because of ULTIMATE security of the shipping.
All of their products are available to wholesale buyers. They also have a variety of online services such as eCommerce websites, digital catalogs, print catalogs, eNewsletters, social media, and more. They offer full access to their products online and in their warehouse in New York. Their customers love the easy ordering process, fast shipping, and outstanding customer service.
Primary Products:
Apparel Fabrics
Decorating Fabrics
Bridal Fabrics
Lace & Embroideries
Natural Fibers
Novelties & Metallic
Satin & Sheer
Drapery & Tabletop Fabric
Tent Fabric
Velvet & Suede
Costume & Stretch Fabrics
Brocade & Jacquards
Glitz & Sequin
Lace & Embroideries
Satins & Sheers
Solid & Textures
Stretch & Spandex
Natural Fibers
Designer Promos
Cotton
Leather
Linen & Viscose
Silk
Synthetic
Velvet Corduroy
Wool & Wool Blend
Phone:
212-354-5213
800-717-2257
Email Address:
Location:
Showroom/Sample room: Berenstein Textiles, 270 W. 39th Street, 20th Floor, New York, N.Y. 10018
Corporate Headquarters: Berenstein Textiles, 300 Suburban Ave. Deer Park, N.Y. 11729
2. Tessuti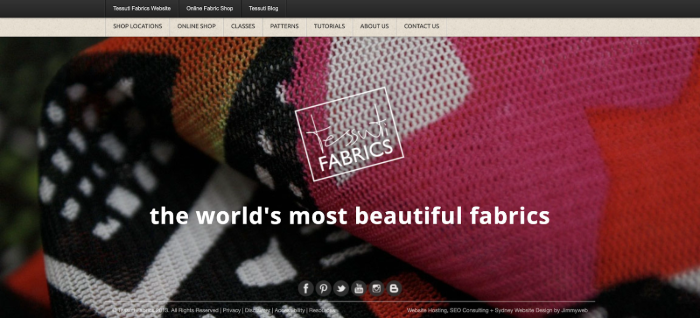 Tessuti Fabrics is a leading Australian fabric retailer established twenty years ago. They have two retail stores- one in Sydney and another in Melbourn. They also have an online shop which is very popular for its high-quality fabric.
They supply hundreds of different kinds of fabrics. You can find anything you want here. Tessuti Fabrics carries a wide range of fabrics from cotton, silk, wool, polyester, etc. They also provide excellent customer service.
Tessuti's collection comes from some of the most revered local, international, and interstate designers, including Cue, Zimmermann, Missoni, Dolce & Gabbana, and others.
Primary Products:
Linen
Silk
Cotton
Wool
Lace
Phone:
Surry Hills- (02) 9211 5536
Melbourne- (03) 9654 4566
Email Address:
Location:
110 Commonwealth St, Surry Hills NSW 2010, Ground Floor – 141 Flinders Lane, Melbourne VIC 3000
3. Whaleys Bradford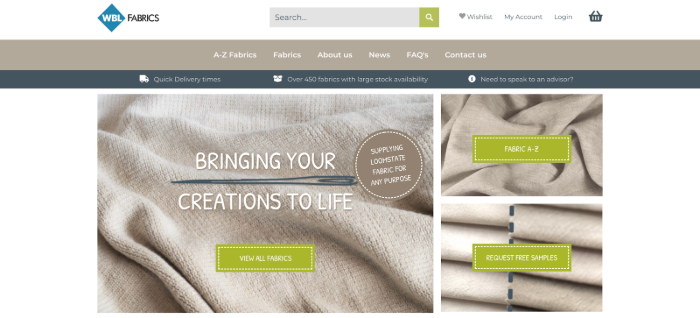 The greatest company Whaleys Bradford began in 1869. For decades, it was the only silk factory. Now it's diversified and introduced a specialized department to produce theatre curtains and a range of flame-proof fabrics.
They believe that the customer is the center of their business, and they use this philosophy to deliver superb customer service to their clients. The company started to provide a high level of service and provide their customers with a broad product selection designed to meet their needs.
I am IMPRESSED with their product collection. Such a HUGE COLLECTION always gets me the BEST for my business. You can diversity your inventory when working with them.
Primary Products:
Cotton
Jute
Silk
Linen
Wool
Muslin
Mixed Fibres
Phone:
Email Address:
Location:
Harris Court, Great Horton, Bradford, West Yorkshire, BD7 4EQ England
4. Akrithi
Akrithi is an online store that offers many unique and different products. They cater to the needs of people who want to purchase products from fabric. The best part of this is that you don't have to go to any store to buy fabric. Instead, you can just order your fabric online from the comfort of your home. It is also good if you purchase materials in bulk to save money. They also sell many other items, so you can browse the rest of their store. They have a wide variety of products.
From my personal experience, their 90% of the products have LOWER PRICES. Even their prices are less than the MARKET RATES. If you want some serious deals, get this supplier. You can make higher profits.
Their products are very affordable and are made with quality material. They are constantly innovating new ways of creating the best possible products. Their products are trendy and are always in demand. Akrithi has a team of talented designers who continuously work on developing new and unique designs and concepts for their product lines. They have a wide array of colors and shades.
Primary Products:
Dyeable Fabrics
Cotton Fabrics
Embroidery Fabrics
Exclusive Embroidered Fabric
Sequin Fabric
Banarasi Brocade
Printed Fabrics
Printed Organza Fabric
Printed Pure Silk Fabrics
Printed Georgette
Printed Crepe
Ikat Fabrics
Printed Semi Silk
Blouse Fabric
Tie & Dye Fabrics
Organza Checks
More Fabrics
Sarees
Lace
Suites & Dupatta
Phone:
Email Address:
Location:
Plot Number, 18 A&B, 1st St, Ramagiri Nagar, Velachery, Chennai, Tamil Nadu 600042
5. Nick of Time Fabrics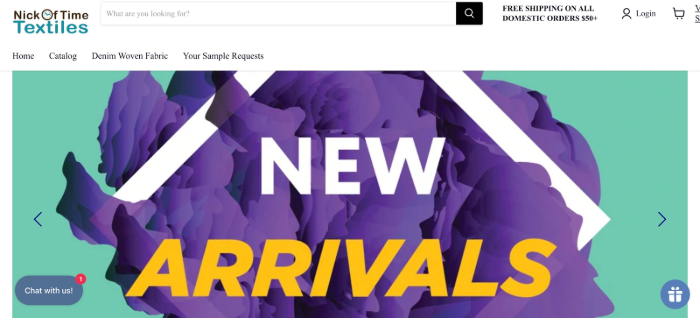 Nick of Time Textiles Ltd, based in Allentown, Pennsylvania, is a manufacturer of fabrics. They offer low prices and a wide variety of fabrics for decorators, retailers, apparel manufacturers & all users of fabric. It is a family-owned business.
You'll find a vast selection of sample knits by the top designers and 1000 images of fabric. You can create your account with your email password for their new products and latest offers.
Primary Products:
Children's Print Fabric
Denim Fabric
Twill Woven Fabrics
Camouflage Fabric
Double Knit Fabrics
Spandex Cotton Jersey Fabric
Phone:
610-395-4641
610-730-2504
Email Address:
Hours of Operation:
Monday – Thursday 9 am – 4 pm Est
Friday – 9 am – 1 pm Est
Location:
1701 Union Blvd. 301 Allentown PA 18109
6. Denver Fabrics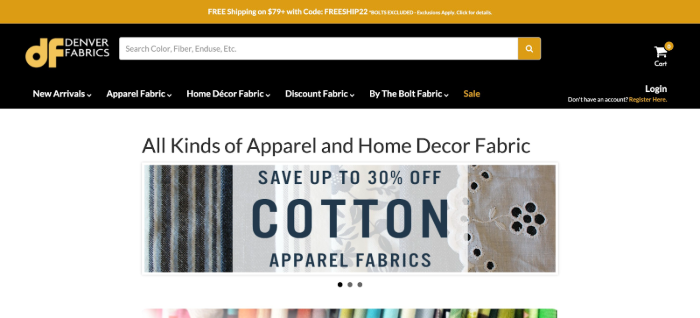 Denver Fabrics site offers a wide range of fabrics, including a large and varied inventory of designer fabrics like silk, wool, linen, imported shirtings, and Ultrasuede. They also have an extensive selection of bridal materials.
Their VAST COLLECTION helped me start my brand. I listed 50% of their Unique items in my store. In a single week, I was able to sell almost all the products. Isn't it amazing?
You can buy a wide range of fabrics at wholesale prices. Denver Fabrics has a vast selection of imported and domestic designer fabrics. You'll also find a huge selection of silk, cotton, linen, and Ultrasuede. You'll get free shipping orders if you spend more than$79.
Primary Products:
Apparel Fabrics
Silk
Linen
Cotton
Stretch
Prints
Faux fur
Swimwear
Wool
Fleece
Corduroy
Flannel
Faux Leather
Velvet
Decorator Fabrics
Drapery
Prints
Silks
Lining
Toile
Blinds
Upholstery
Vinyl
Oilcloth
Leather
Trims
Vintage/Retro
Phone:
1-800-468-0602
314-993-4919
Email Address:
Location:
10490 Baur Blvd. St. Louis, MO 63132
7. Vogue Fabric Store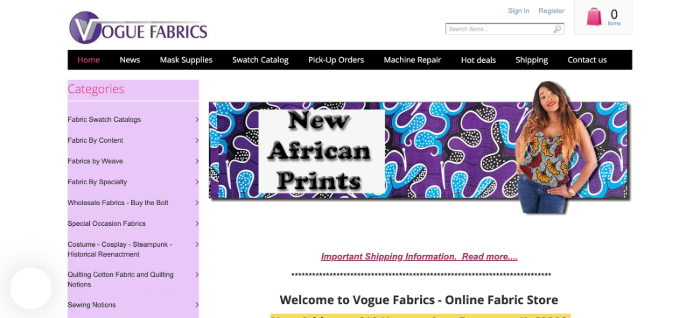 Vogue Fabrics started out as a fabric store that sold to dressmakers in 1945. The owner, Sy Sussman and Sol Farber was looking for a new line of fabric that he could use for his dressmaking customers. His business overgrew, and eventually, he added two other locations in Chicago.
He also started selling swatches. This swatch catalog helped dressmakers make better decisions when buying fabric for their clothes. Today, Vogue Fabrics offers thousands of materials, patterns, and notions.
Primary Products:
Silks
Woolens
Rayons
Polyester
Cotton
Linens
Drapery and Upholstery
Bridal Laces
Trims
Notions
Phone:
800-433-4313
Fax: 847-864-0113
Email Address:
Location:
618 Hartrey Ave.Evanston, IL 60202United States
8. Fabric Wholesale Direct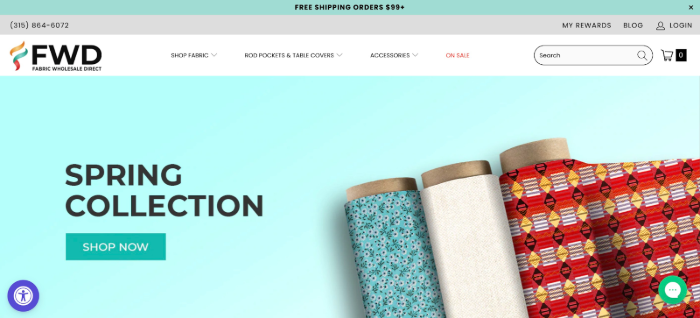 Are you looking for some GOOD QUALITY ITEMS? Fabric wholesale direct is my FAVORITE supplier in this respect. It has got some QUALITY ITEMS at affordable prices. I earn more and make more profits.
Fabric Wholesale Direct is a full-service wholesale fabric distribution company based in NY, specializing in offering low-cost fabrics to customers nationwide. For quality control they thoroughly inspect every material. They provide quality, economic fabrics, and services to fashion industry professionals at exceptional prices. You can buy fabrics in bolts or rolls.
Primary Products:
Crepe Back Satins
Charmeuse Satins
Silky Habutae Lining
Poplin
Tulle
Cotton Broadcloth
Brocades
Damasks
Jacquards
Upholstery
Chenille
Sheer Voile
Stretch and Micro Velvet
Sequins
Trimmings
Phone:
(315) 864-6072
(855) 464-6867
Email Address:
Hours of Operation:
Mon-Fri 9:00 am – 5:30 pm ET
Sat-Sun Closed
Location:
480 Smith Street, Farmingdale, NY, 11735
9. Mood Fabrics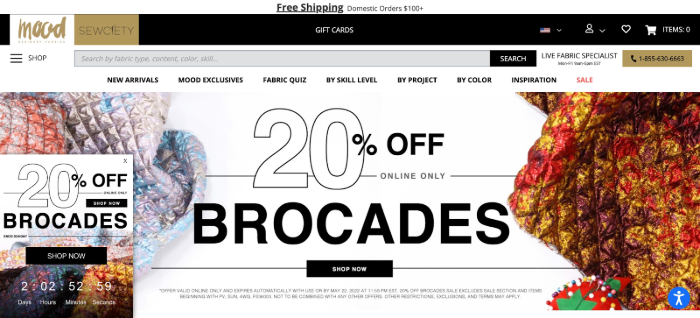 It's amusing to find an exciting store that sells things you use. But when it comes to fabric, finding what you want is usually a challenge. Mood Fabrics provides fabric and trim. They offer the widest selection of fabric.
Their customer service is excellent and the customer service representatives are helpful and knowledgeable.
Primary Products:
Fashion Fabrics
Home Décor Fabrics
Designer Fabric
Leather
Buttons
Trims
Rhinestone
Notions
Mood Shop
Wholesale Fabric
Phone:
Email Address:
Hours of Operation:
Monday – Friday 9 am-4 pm
Sat-Sun Closed
Location:
225 W 37th St 3rd Floor, New York, NY 10018
1726 West Pico Blvd, Los Angeles, CA 90015
3550 N Miami Ave, Miami, FL 33127
10. China Textiles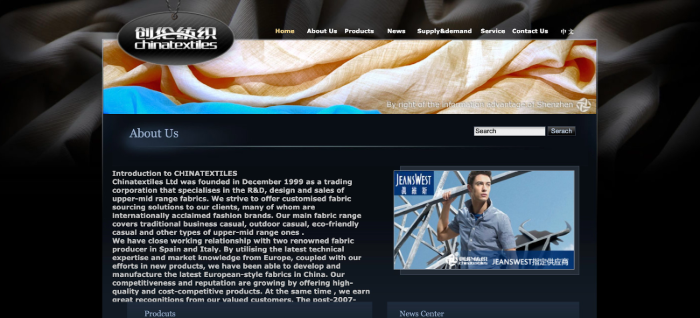 China textiles Ltd was started in December 1999 as a trading corporation. The company specializes in upper-midrange fabric research, design, development, and sales. They provide customized fabric sourcing solutions to their clients, many of whom are internationally acclaimed fashion brands. They are famous for their eco-friendly casual fabric range.
Primary Products:
Yarn-dyed
Velveteen
Rip-stop
Corduroy
Compound
Satin
Poplin
Plain
Ottoman
Matting
Herringbone
Double Weave
Dobby
Cavalry
Canvas
Broken Twill
Bedford Cord
Twill
Denim
Yarn Dye
Phone:
Tel: +86 755 82800000
Fax: +86 755 82800302
Email Address:
Location:
23-A, Jinrun Building, No. 6019, Shennan Road, Futian District, Shenzhen, China
11. Fabric Selection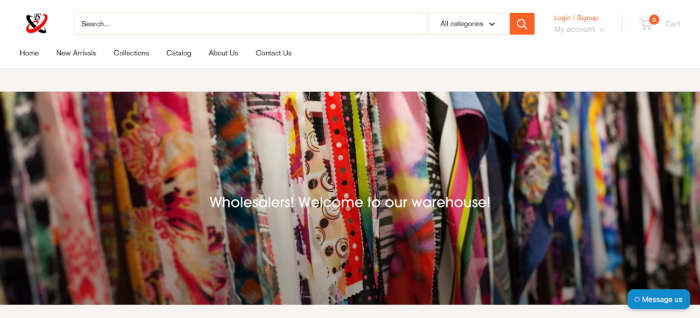 Fabric selection inc. is a company that has been around for several years. They have the best quality fabrics available. I have checked their products in the LAST ORDER. I would say outstanding. They offer a huge range of PRODUCTS. All of them procure QUALITY and high integrity. Just try them out.
When it comes to the best fabrics for fashion, they are an expert in fabric selection. Whether you need the common fabrics, such as cotton, linen, silk, or something more unique, such as linen, rayon, or velvet, you can trust them to provide you with the best quality fabrics.
If you need anything for your next big fashion show, or if you want to use your fabrics to decorate a home, you can trust them to work with you. They will work with you to get you a great deal that will fit your budget.
Primary Products:
Knit Fabric
Woven Fabric
Bengaline Fabric
Wholesale Cotton Fabric
Denim Fabric
Lace Fabric
Chiffon Fabric
Phone:
Location:
4940 Triggs St. Commerce, CA 90022
12. Source of Fabric International (SOFI)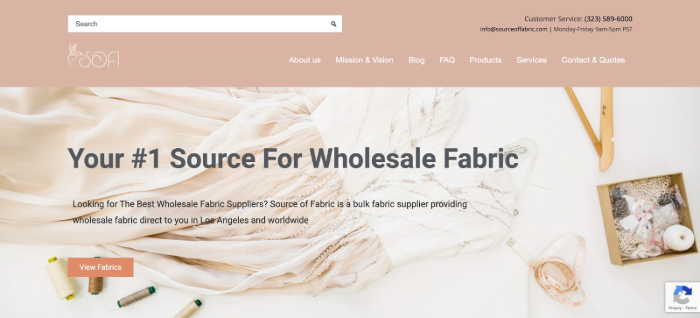 Source of Fabric International is a wholesale fabric distributor providing wholesale fabrics nationwide to fabric stores. They offer high-quality fabrics at affordable prices. They have a million yards of fabric and ship fabric worldwide. With fast and friendly service and a vast selection, you can easily find fabrics online for your next project.
I have ordered them online multiple times. Their SHIPPING SPEED is great. I save TIME AND MONEY when ordering them. They offer special discounts on bulk inventory.
Primary Products:
Bridal Satin Fabric
Brushed Hacci Solid
Burnout Fabric
Charmeuse Fabric
Charmeuse Satin Fabric
Cotton Jersey
Cotton Jersey Spandex (12 oz)
Cotton Lawn
Cotton Muslin
Cotton Poly Sweatshirt Fleece
Cotton Poplin
Cotton Spandex 10oz
Cotton Velour Fabric
Crepe Back Satin
Crepe De Chine CDC Fabric
Domestic Cotton Fleece
Domestic French Terry Fabric
Domestic Matching Rib Cotton
Faux Fur Shaggy Fabric Wholesale
Football Mesh Fabric
Hacci Rib 2X1
Hacci Sweater Knit
Phone:
Email Address:
Hours of Operation:
Monday-Friday 9 am-5 pm PST
Location:
1502 E Washington Blvd, Los Angeles, CA 90021
13. Fabric Merchants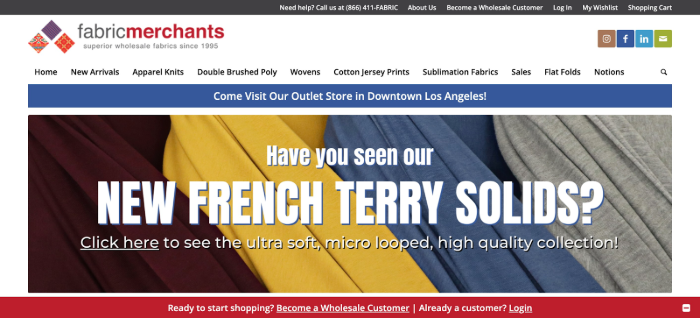 Fabric Merchants has a large selection of products. They offer high-end fabrics. If you need some fashion fabrics, you can find them here. With a vast selection to choose from and a courteous service, you can easily find the fabric you need and get started on your project right away.
Primary Products:
Apparel Knits
Double Brushed Poly
Wovens
Cotton Jersey Prints
Sublimation Fabrics
Flat Folds
Notions
T-shirt Knit Cotton
Cotton Spandex Printed Knits,
Featuring Floral
Skins
Camouflage
Phone:
866-411-FABRIC (3227)
323-267-0010
Fax: 323-267-9110
Email Address:
Location:
1430 S. Grande Vista, Los Angeles, CA 90023
14. Fabric.com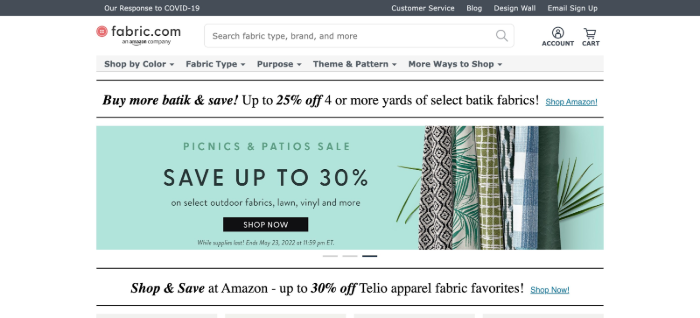 In 1999, Amazon launched its subsidiary website to test the concept of selling cut-yardage fabrics directly to consumers. Their website started by providing them with a place to offer a wide range of cotton print, home decor, apparel fabrics, arts, crafts, and sewing supplies.
They have a GOOD RANGE of fabric. I love the QUALITY and the pricing. The cost is a BIT HIGH but justifies the given quality of the items. Choose them when you want to impress your customers.
Today, the fabric.com website is still the same, but now they sell thousands of products across many different product categories and have wholesale purchasing options. They are a very well-known website, and they are known as being very friendly. Their customer service has also been ranked one of the best in the country.
Primary Products:
Cotton
Flannel
Knit
Batik
Linen
Minky
Fleece
Canvas & Duck
Broadcloth
Muslin
Precuts
Stretch
Rayon
Silk
Wool
Phone:
Email Address:
Hours of Operation:
Monday to Friday 8:00 am – 6:00 pm ET
15. Foust Textiles Inc.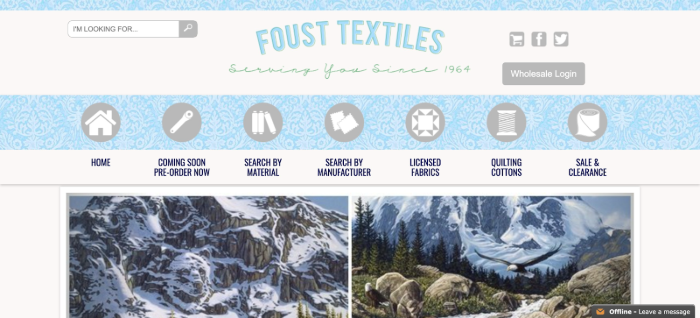 Foust Textiles is one of the largest fabric wholesalers, established in 1964 by John O. Plank. The company sells fabrics, thread, and related supplies and is well known for its quality and customer service.
Their products come in a wide variety of colors, styles, and designs, making it very easy for customers to find their needs.
Primary Products:
Bridal / Special Occasion
Burlap
Fleece
Polyester Poplin
Quilting Basics
Vinyl
Phone:
Email Address:
Hours of Operation:
Monday – Friday 8 am – 5 pm
Location:
608 Canterbury Rd. Kings Mountain, NC 28086
16. Wholesale Fabrics by Empee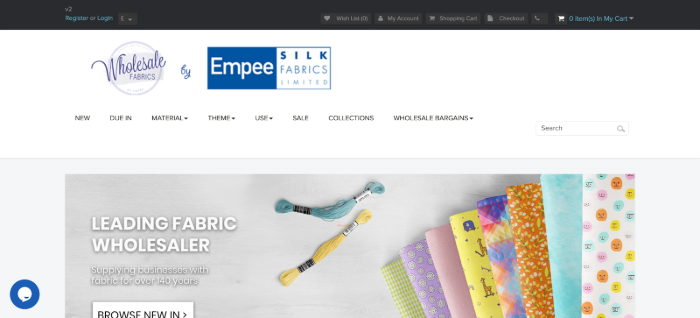 Wholesale Fabrics by Empee began as a small family-run business in the 1960s and has grown to become a much larger company. They offer their customers an extensive range of quality fabrics and products.
In the 1970s, the company moved into the East End of London and began trading in the rag trade area. It is still located in the East End and trades from three different branches.
Primary Products:
Anglaise
Bengaline
Bi-Stretch
Brocade
Calico
Canvas
Chiffon
Coated Oil Cloth
Custom
Corduroy
Cotton
Crepe
Crepe De Chine
Crushed Velvet
Cuddle Fleece
Denim
Drill
Duchess Satin
Elastique
Phone:
Email Address:
Hours of Operation:
Monday – Thursday 9:00am – 5:30pm
Friday 9:00am – 2:00pm
Saturday: Closed
Location:
31 Commercial Rd, London N18 1TP, UK
How do you find fabric suppliers for your clothing business?
Today's fashion industry evolves day by day, and customers demand better quality products at cheaper rates. Clothes have become a significant aspect of our lives, as we are looking for the best fabric that will enhance our appearance and give us the comfort we need. Steps to help you find the best fabric suppliers for your clothing business.
You need to understand that fabric is a major element of your clothing line. Therefore, before you approach any supplier, you must know exactly what you want. Make sure you know the fabric you want and the color, and then you can approach the right fabric supplier.
It is very common to find the best suppliers among your friends and relatives. Ask them for the names of the best suppliers.
Many fabric suppliers are available online. You can check the supplier's website and see whether the company has a good reputation.
Visit the company in your area.
Most fabric suppliers have their offices and warehouses where you can visit them. You can visit them and see their fabric selection.
It is essential to know the cost of the fabric you need. The more your budget, the better the quality of the fabric will be.
Look for the best fabric suppliers.
Whether you're looking for fabrics or manufacturing partners for your startup, it pays to ask many questions. It'll help you get a feel for what the supplier wants, so you don't end up in a bidding war.
With the tips you've just read, you'll be able to find the best suppliers easily. Remember, the best fabric suppliers can provide the best quality fabric at affordable rates.
FAQs about Wholesale Fabric Suppliers
Are fabric stores profitable?
Fabric stores are definitely profitable. However, it can be challenging to find out if you are making a profit or not. It's easy to lose money. For example, you may think that selling fabric and clothing is easy and can make a lot of money. But, if you don't know much about how to sell, it may be a terrible investment for you. For success knowing how to market your business properly is a must. 
How much is a yard of cotton fabric?
Cotton fabric is an excellent material for making clothing. It is inexpensive and easy to find. Many things affect the cost of fabric. You must look at the following factors to determine the price of the fabric:
• The style of fabric (plain or patterned),
• Weight of the fabric,
• Color of the fabric, 
• Material's durability,
• And the fabric's length.
To put it simply, the price of fabric depends on what you are purchasing. Cotton fabrics wholesale pricing is generally between $5 and $20 per yard, considering all those factors.
What is the highest quality fabric?
• Leopard Fur
• Mulberry Silk
• Cervelo
• Shahtoosh
• Baby Cashmere
• Vicuña Wool
• Guanaco
Which country has the best fabrics?
• Germany: Germany is well known for its fashion industry, and it is the country where the most popular fabrics are being produced. 
• China: They have smooth, sleek fabrics that make wearing them so comfortable.
• Ghana: In Ghana, Kente, and Batakari are some of the most high-quality fabrics globally.
• United States: The United States is known for its strong fabrics, and it is the country where the most popular fabric is being used. 
What's Next
With the economy's current situation, the demand for cheap wholesale fabric is increasing. The market is flooded with many fabric suppliers trying to grab retailers like you. Being a business owner, you should establish a solid foundation for your business. You should ensure that you are working with the best, and you want to be able to afford the best.
We have assisted thousands of businesses over the last decade. So, if you want assistance with your product sourcing, contact us.
Do you want a successful import business?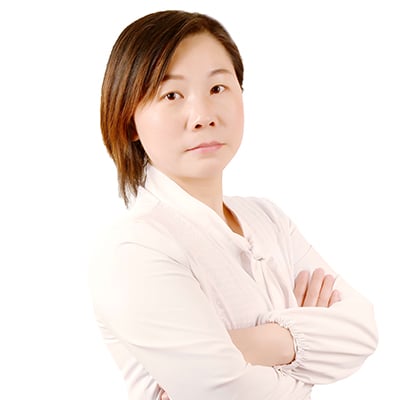 Hey, I'm Sharline, co-founder of LeelineSourcing. We've helped 2000+ customers import from China.
Do you want a better price on product or shipping?
We are sorry that this post was not useful for you!
Let us improve this post!
Tell us how we can improve this post?