Europe Clothes Suppliers
Leelinesourcing is a product sourcing agent in China with partners across Europe. We connect small and medium clothing businesses to the best wholesale suppliers across Europe. We negotiate with the factory on your behalf. You'll get the best price and high-quality clothes with no hidden charges.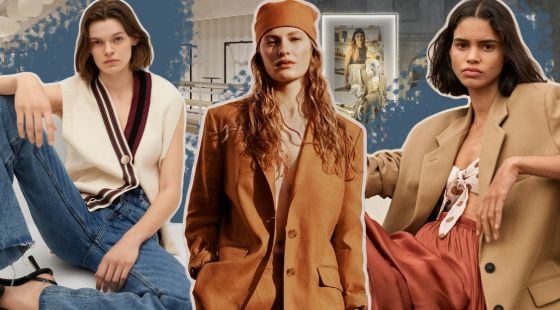 Top 1 Sourcing company in China
With 10 years of experience in china sourcing business
No Risk Free Sourcing No Hidden Fee
You can get Free detailed product quote before order
Trusted by over 2000 Customers
Leeline is your trusted sourcing agent partner in china
Wholesale Best Europe Clothing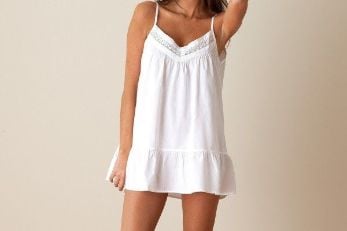 Wholesale Nighties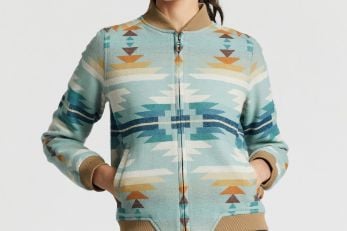 Wholesale Jackets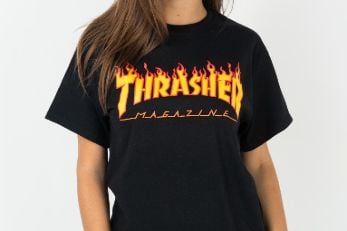 Wholesale T-shirts
---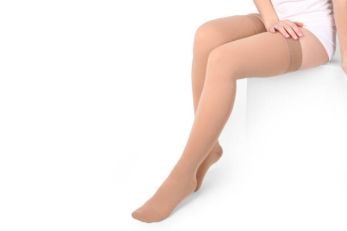 Wholesale Hosiery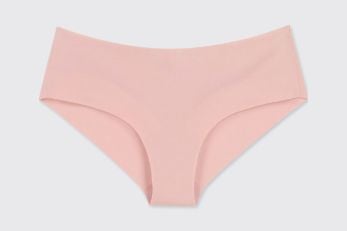 Wholesale Underwear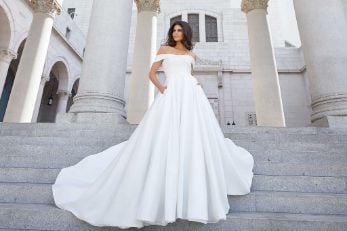 Wholesale Wedding Wear
---
Our Europe Clothing Manufacturing Services Include: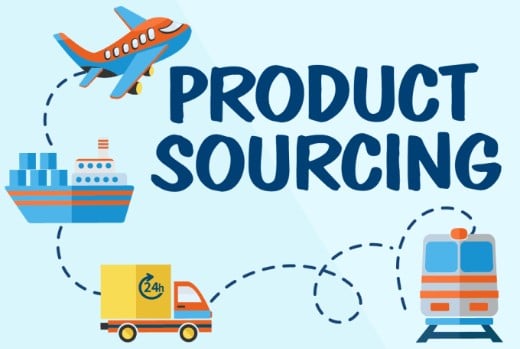 Sourcing Clothes Suppliers
You can get first-class wholesale clothes in Europe using our services. Leelinesourcing international expert team ensures you get excellent product prices, quality textile materials, unique designs, size, and top-notch tech pack. You'll get straight-off feedback on your quotation in less than 48 hours. You can order any size as we don't enforce minimum order.
Clothes Quality Control
We perform factory auditing because customer satisfaction is our watchword. All the products from the factories will be examined, inspected, and rechecked to ensure they meet the specified quality. Our inspection process covers full Amazon FBA inspection and Alibaba inspection.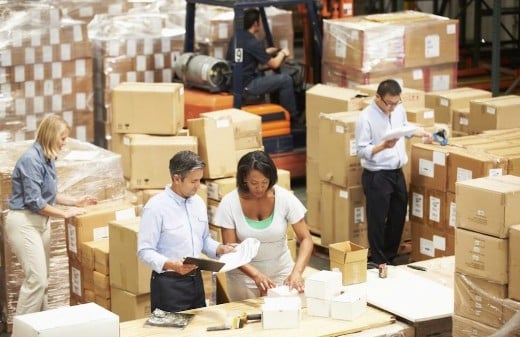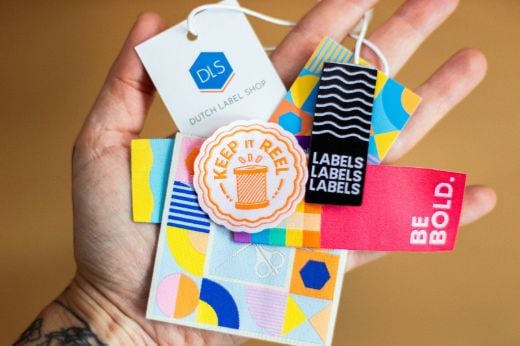 Private Label & White Label Clothes
We can help you dropship and sell wholesale clothes in Europe under your own brand. We will give your products a private label. Our design team offers you the opportunity to design, develop and sell your private and white label clothes, making you stand out from the crowd.
Dropshipping and Fulfillment
Leelinesourcing delivers wholesale clothes via air, train, or maritime transport to your clients' doorsteps. Over the decade, we have established strong relationships with many shipping and courier agents in Europe. We deliver in various geographical areas, notwithstanding the size of your order.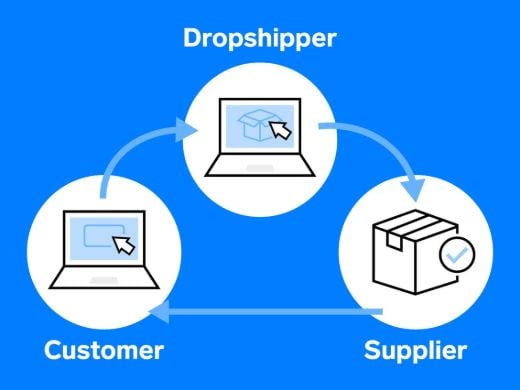 ---
Hear it from fellow Clothing Wholesaler
I couldn't be happier with them, after trying many services of this type that have all ended in headaches, I have finally found my business partner. Fluid communication, easy and fast problem-solving. After several disappointing experiences with many different sourcing agencies, we found Leelinesourcing. We have been working with them for three years and we are more than happy with the level of their commitment to adapting to our ever-changing needs. Their process is simple with precise easy to read reports.
– Lloyd, Lithuania
---
Source Your Europe Clothes and Make Big Money
We offer the best wholesale price and high quality clothes to help you boost your business.
---
Top 16 Wholesale Clothes In Europe
According to statistics, the annual turnover of the fashion industry in Europe is approximately 147.6 Billion euros. Fashionistas have unrivaled success in the fashion market daily, which means suppliers for wholesale clothes in Europe are gaining recognition every day.
Thousands of European clothing wholesalers are swimming around you but finding the right one is not easy.
We've spent 10 years helping thousands of clothing businesses grow. We list of top 16 wholesale clothes suppliers in Europe to find the most trustworthy ones for you. You can choose from a variety of features that will meet your online store requirements, such as grade apparel, free shipping, secure payment methods, low minimum orders, and a quick turnaround time.
Read this guide to find the best provider of wholesale clothes that offers a broad range of quality options.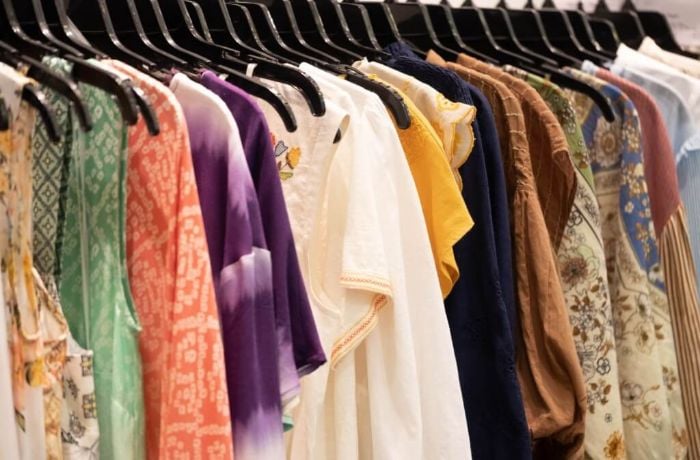 1. Fashion Center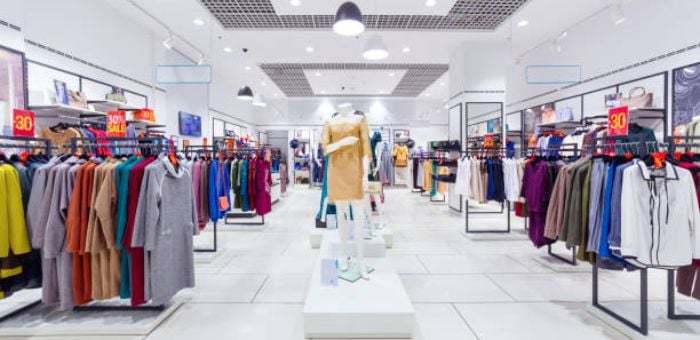 Fashion Center is a trendsetter wholesale supplier in Europe that matches the needs of every type of small retailer with quality apparel. They help you make more money by selling their products at higher margins without reducing your turnover. 
I have purchased wholesale clothes from them. They have got a GOOD COLLECTION with higher margins.
With 15 years of experience in fashion garments and many years as a top-ranked wholesale clothing supplier – including winning awards like 'Leading Supplier For Wholesale Clothes in Europe' three times. They can offer you an extensive collection at lower prices that make it possible to grow your online business.
This wholesale supplier aims to provide products and services that increase your revenues. Besides ensuring peace of mind during day-to-day operations, it delivers timely deliveries so you can enjoy rapid growth. Take advantage of their unmatched payment methods, refund policy and bulk order opportunity to bring your apparel store to the next level.
Primary Products:
Costume
Trousers
Jumpers with Wool
Blouse & Shirts
Plus Size Clothes
Stock Clothes
Fitness Wear
Hours of Operation:
Monday to Saturday 9:00 to 19:00
Location:
70 Avenue Victor Hugo 93300 Aubervilliers
2. Stock Solution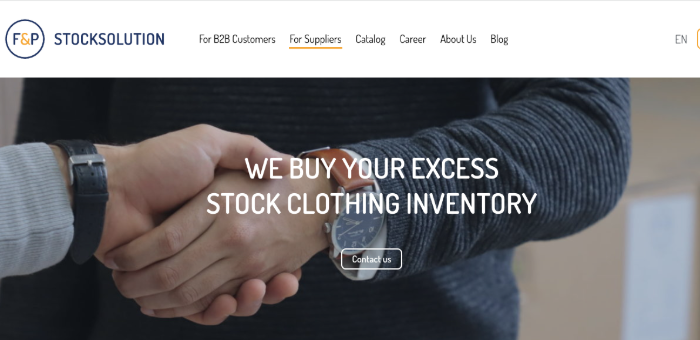 The leading wholesaler–the stock solution provides a platform for budding small brands to reach their consumers globally. It is one of the top wholesale clothing suppliers founded in 2013, aiming to grow small fashion brands through its innovative online retailing methods.
They offer a variety of women's clothing with premium merchandise to match your store's needs. They also provide fast delivery and excellent customer service, making them your one-stop-shop for wholesale clothing collection. You will surely increase the look of your brand with their high-quality fashion clothes.
This wholesale clothing supplier is committed to a sustainable business model and has developed an eco-friendly approach to its supply chain. They actively participate in the sale of products that are no longer offered by the primary distributors and encourage the reuse of natural resources.
My experience!
I have ordered ten pieces of apparel. The price is less, and the quality is the best.
Primary Products:
Tom Tailor Fashion Mix
Marc Aurel A Textiles
Dallas A kid's Textiles
Columbia A Textile Samples
Fitness Wear
Kids Clothing
Stock Clothes
Phone:
Email Address:
Hours of Operation:
Monday – Friday 8:00 a.m. to 6:00 p.m.
Location:
F&P Stock Solution GmbH, C/O Ecom Logistik GmbH & CO., StraBe Der Einheit 142-148, 14612 Falkansee, Germany
3. JSC Sofralita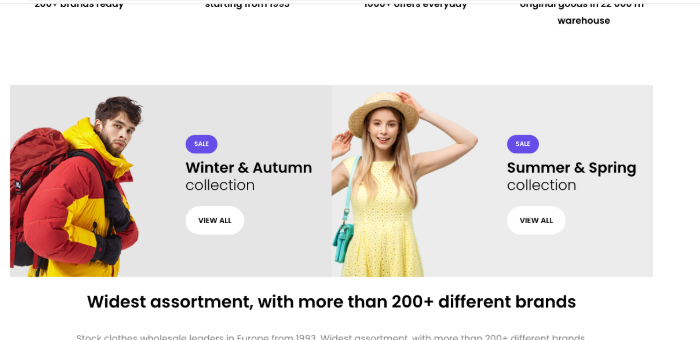 They are one of the biggest wholesale clothing suppliers in Europe, and they have served more than 250 different brands at affordable prices.
I checked their prices last week. The prices are not that high. PROFITS are higher.
This is your chance to get fashion clothing online at the lowest prices with the highest quality!
JSC Sofralita is the only supplier of wholesale clothes in Europe that makes fashion clothing with high-quality materials and offers competitive prices. The online catalog will help you choose from a wide range of fashion clothing pieces with many options to choose from. They have an area of 22000 square meters that can accommodate bulk orders.
With their free shipping services and quick turnaround time, you can alternate between multiple wholesale clothing suppliers to meet your business needs. Their fast turnaround and shipping times are all you need to win the race. Our experience with this company has been unmatched, so I suggest you do not go anywhere else.
Primary Products:
Hoodies
Dresses
Nighties
Sweatshirts
Pants
Stock Clothes
Sports Clothing
Phone:
Email Address:
Hours of Operation:
Monday-Friday 8:00 a.m. to 6:00 p.m.
Location:
JSC Sofralita Ateities pl. 23 52167 Kaunas Lithuania
4. Erve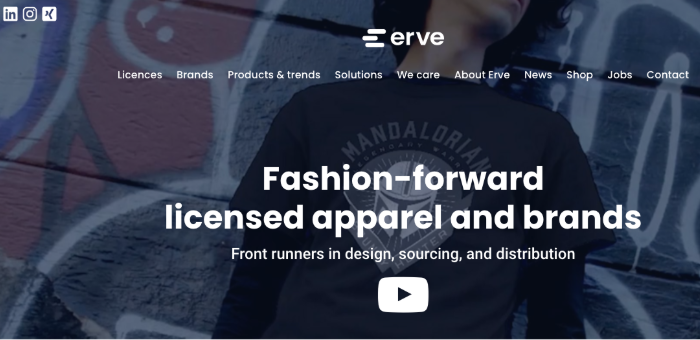 Whether you're a medium-sized apparel retailer, e-commerce seller, or entrepreneur, Erve gives you convenient online catalog access to their most popular designs in surplus stock. They provide your business with new opportunities to grow and expand and a range of men's and women's clothing that help you boost your fashion clothing brand more effectively.
Erve is 35 years experienced in wholesale company that focuses on offering reliable and effective customer service. It has a very accommodating design team ready 24/7 to hear you and respond in less than an hour.
Zero-risk model, licensing, marketing, wholesale price, no minimum order value, fast delivery – 2-5 days within Europe, catalog and exceptional customer support. These are their core values that will bring your retail stores a new level of hype.
Primary Products:
Daywear
Nightwear
Swimwear
Hosiery
Jackets
Men's Clothing
Women Clothing
Phone:
Email Address:
Hours of Operation:
Monday – Friday 8:00 a.m. to 6:00 p.m.
Location:
Erve Europe (Van der Erve nv), Weiveldlaan 41 bus 21, 1930 Zaventem, Belgium
5. Agent cargo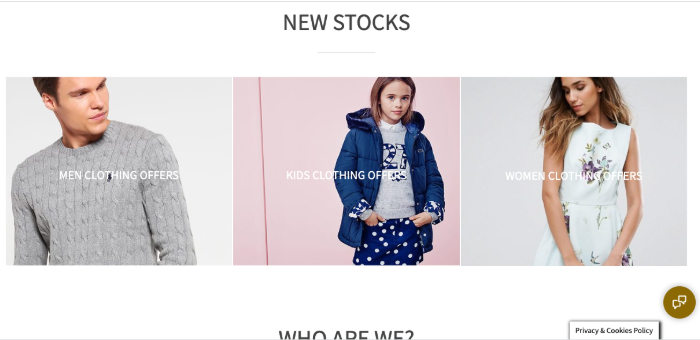 Agent cargo is the go-to shop for all your wholesale clothing needs. It sells some of the country's most prominent brands of children's, men's, and women's clothing direct to retailers. With excellent customer service and the fastest delivery in the industry, it has successfully delivered over 1000 orders worldwide.
As a prominent supplier of wholesale clothes in Europe, Agent Cargo assists all types of brands, large and small, at the lowest prices. If you want the most competitive fashion clothing provider among hundreds of wholesale suppliers, don't think twice about choosing Agent Cargo. Having 24/7 customer support service will bring your brand to the sky.
Their low MOQ, fast delivery across Europe, and high-quality clothing items will help your brand reach new heights.
Primary Products:
Women Stock
Kids Apparel
Summer Clothing
Women Sports Wear
Swim Sets
Shorts
Phone:
Email Address:
Hours of Operation:
Monday – Friday 9:00 – 18:00
Location:
WSM Distribution GmbH Allensteinerstr. 25 77694 Kehl Deutschland / Germany
6. UTT Europe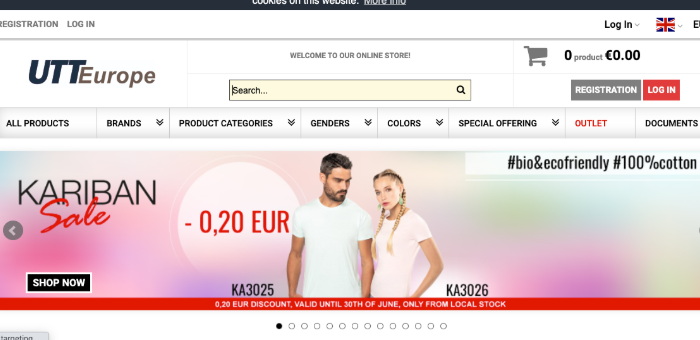 UTT Europe has any wholesale clothing item you need in stock. Their design team works hard to satisfy your needs and give you the support that you need. They have a decade of experience in providing wholesale clothing to all retailers and brand owners. This makes them stand out as one of the top wholesale clothing suppliers located in Hungary.
UTT distributes fashion brands and provides highly sustainable and wholesale clothing. Their resellers include embroiders, fashion companies, advertising agencies, screen printers, gift companies and the biggest manufacturer of attire.
They offer me additional services. Services like on-time delivery, bulk order facility, and comparatively wholesale prices will surely help you increase your own brand's reputation.
Primary Products:
Windbreaker
Trousers and Underwear
Polar and Soft Shells
Casual Clothing
Caps and Sportswear
T-shirts
Women Clothing
Phone:
Hours of Operation:
Monday-Friday: 8:00 – 17:00
Location:
UTT EUROPE KFT., 2040 Budaors Gyar u. 2 (BITEP – Szilard Leo u)
7. BOLF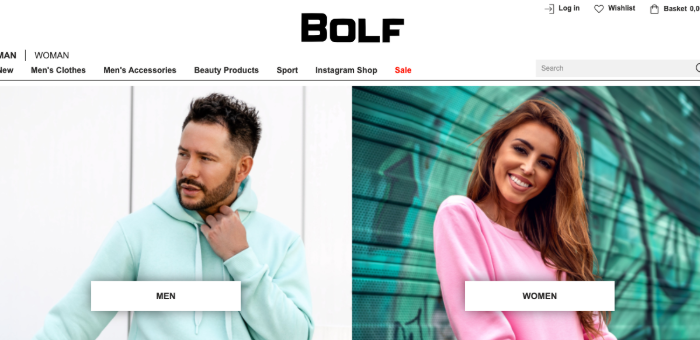 Bolf is the fastest-growing wholesale clothing supplier in Europe, offering a vast wholesale clothing collection to give your online store a skyrocket boost. Bolf is the undoubted leader among designers and manufacturers of sportswear, uniforms, underwear and casual wear.
With a rich experience in this field of brand clothing, this company focuses on high-quality and innovative products. Bolf makes it possible to get custom-made clothing at an affordable price! All of their designs are 100% exclusive, which means that you won't find them anywhere else outside of Bolf Clothing.
They use Paypal for payment and DHL for shipping, which means you will get the most efficient services from those two companies. Also, they make sure you receive your purchase fast and safely. I recommend contacting this company for an uninterrupted boost to your fashion brand.
Primary Products:
Men's Clothing
T-shirts
Jumpers
Tracksuits
Women Coats
Fitness Clothing
Women Garments
Phone:
Email Address:
Hours of Operation:
Mon – Fri: 8am – 4pm UTC (+01:00)
Location:
BOLF Sp. z o.o. Sp. k., streetKożuchowska 32, 65-364 Zielona Góra
8. Kokos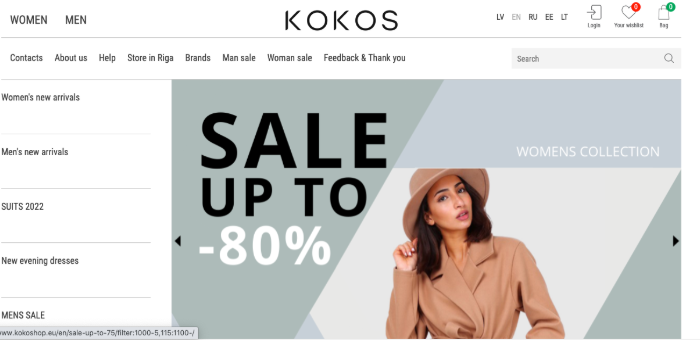 When I look for a European wholesale supplier, Kokos is one of them. It has got a reasonable price and quality apparel.
Kokos Company is an essential wholesale clothing supplier with 12 years of experience who cares for its retailers and brand owners. They understand that top quality and customer service are the keys to keeping your business growing, and they are committed to working hard every day to help you make your brand clothing more successful!
Being a women's clothing wholesale supplier in European countries, Kokos is one of the top-rated clothing manufacturers that will adorn your retail store with various products at the lowest prices. Having served several prominent brands, they are ready to help you out by offering you class custom clothing stock and customer service that is always on hand.
Their multiple payment methods, 120-day refund policy, easy order facility, tailored services of stock clothing, and free & fast delivery services can ensure your work easier while strengthening the value of your brand clothing around the globe.
Primary Products:
Jackets and Coats
Jeans
Sports Suit
Children's Clothing
Wedding Wear
Casual Shirts
Fitness Clothing
Phone:
Email Address:
Hours of Operation:
Working Days 11:00 – 19:00
Saturday 10:00-19:00
Sunday 10:00 – 17:00
Location:
Lacplesa 92, Riga, LV 1003, Latvija
9. World of Wear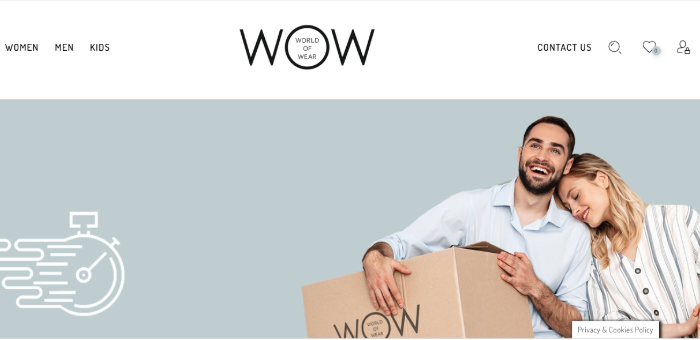 If you are in search of a sustainable and experienced wholesale supplier, then nothing can beat World of Wear. They leave behind many wholesale manufacturers in the industry due to their direct stock supply and a massive range of wholesale apparel. They are helping small Europe business owners and retail chains with excellent products and services. 
World of Wear has been a long-term supplier for me. Product quality is DECENT. Pricing is also affordable.
They have 14 years of experience in the wholesale clothing industry and have expanded from a one-person operation into a successful creative team of 70 people who help thousands of people worldwide every day.
Its mission is to work with customers to find the most appropriate possible solution for them; its goal is for all brand owners to be happy in the end.
Moreover, having them in your loop makes everything easy since you can bulk order hassle-free, pay in cash or by bank transfer without any security risk, and their low MOQ will never let you down.
Primary Products:
Women Swimwear
Lingerie
Jackets
Hoodies
Knitwear
Jumper Suits
Evening Clothing
Email Address:
Hours of Operation:
Monday –Friday 9:00 to 17:45
Saturday – Sunday Closed
Location:
Savanorių ave. 176, Vilnius, Lithuania
10. Take of Ltd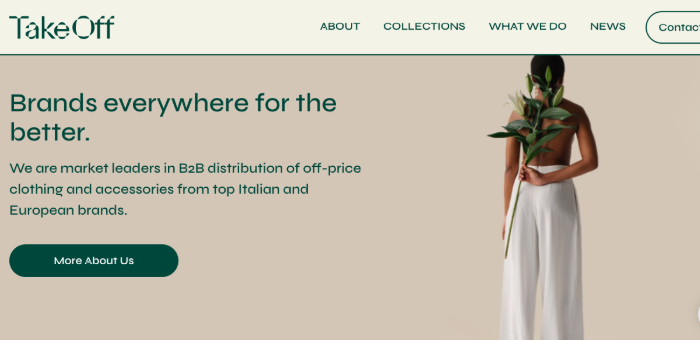 Take off Ltd brings you the latest trends and the most popular fashion brands. If you're looking for wholesale clothes in Europe, turn to Take off – they have served over 150 fashion brands by offering them new collections and the best assortment of garments with proper customer support.
Their inventory consists of factory overstock, clothing pieces, and clearance stock at the lowest prices. With Take Off, you can easily get rid of an excess supply of clothing and unprofitable products from your stores.
Are you a store owner in eastern Europe? Brands and shops can quickly and easily buy, sell, and exchange apparel products with Taking Off, a leading wholesale supplier, among many others. They carry a range of sizes and unique collections, making their direct stock supply appropriate for catering to the needs of physical shops and e-commerce.
Primary Products:
Unique Collection
Home Textile
Sportswear
Outerwear
Winter Suits
Wedding Dresses
Summer Wear
Phone:
Email Address:
Hours of Operation:
Monday –Friday 9:00 to 17:45
Saturday – Sunday: Closed
Location:
Take Off LTD, Verdala Business Centre, Level 2, LM Complex, Brewery Street, Mriehel, Birkirkara BKR 30000, Malta
11. Postskriptum GMBH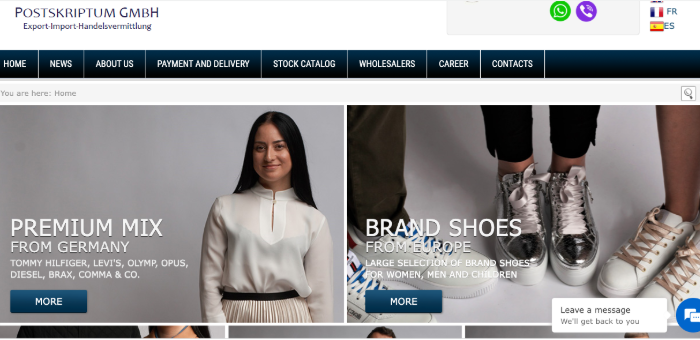 Since 2005, Postskriptum GMBH has been recognized among the reliable wholesale suppliers of quality products. Also, they provide many clothing manufacturers with custom wholesale apparel, as they facilitate the brands of central Europe. Due to their considerable experience in direct stock supply, many small and large clothing brands get satisfied with them.
At Postskriptum GMBH, they offer what you need at the lowest prices on the market. You can find everything you want in their online shops, such as branded clothes and accessories, jeans and pants, t-shirts and sweatshirts. All of them are made of high-quality materials at competitive prices by skilled workers.
One positive thing about them is they offer 3 payment methods, including DHL, third-party shipping and customer shipping companies. You can work tension-free in European countries because of this accessibility.
Primary Products:
Women Wear
Adult Clothing
Kids Clothing
Men's Clothing
Swimwear
Track Suits
Casual Clothing
Phone:
Email Address:
Hours of Operation:
Monday – Friday 8:00 to 19:00
Saturday – Sunday: Closed
Location:
In der Waage 11 73463 Westhausen, Germany
12. BrandsGateway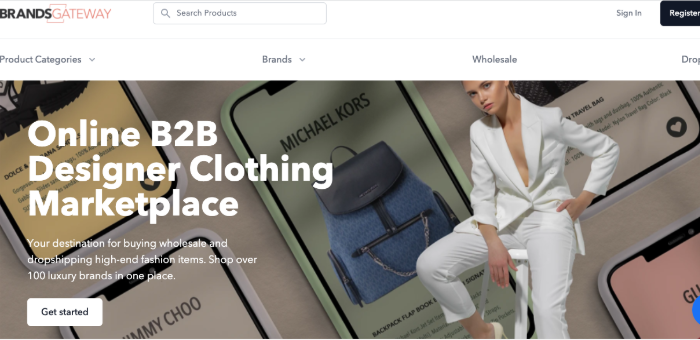 BrandsGateway is a turnkey solution for wholesale clothing suppliers. They have a vast range of high quality, low price and brand products to cater to your business needs. You will find everything you want from t-shirts to jeans, women's clothing, and men's wear.
At BrandsGateway, you can buy wholesale fashion items for yourself, your family, and your business. BrandsGateway offers an easy way to start or expand your retail business by ordering high-quality products like hoodies and casual shirts.
They have a user-friendly website. I have used their secured invoicing system. It is a quick withdrawal process and fast delivery service.
Their primary aims are to provide a secure platform for different retail brands and make their life easy. They focus on a user-friendly website, secured invoicing system, quick withdrawal process and fast delivery service.
Primary Products:
Casual Shirts
Jump Suits
Knitwear
Women Clothing
Men Clothing
Hoodies
Tracksuits
Phone:
Email Address:
Hours of Operation:
Monday – Friday 8:00 to 19:00
Saturday – Sunday: Closed
13. Albano's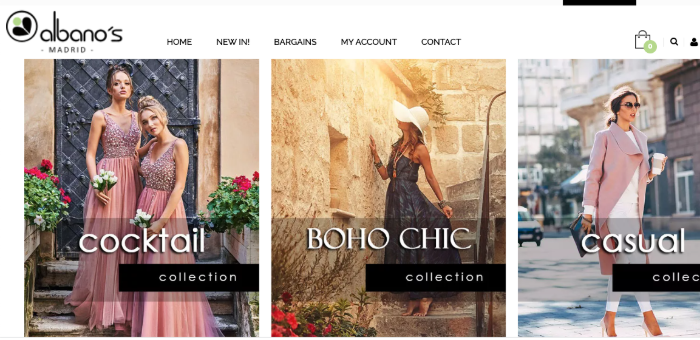 Do you want a ladies' wholesale supplier? Albano is my favored choice because of QUALITY and higher product margins.
Albano's is a well-known ladies' wholesale supplier of clothes in central Europe that work with trustworthy clothing manufacturers to offer retailers quality garments. They are located in the middle of Madrid to deliver state-of-the-art products and services to their potential customers. 
Since 1982, they have been making top-quality fashionable clothes with top-quality fabrics latest designs at low prices. Because of their 35 years of experience working with Spanish manufacturers, they can offer you a 100% unique collection at low prices.
Albano's is the right place if you are looking for wholesale clothes in Europe. Some of the most impressive things about them are that they ship their items fast and the quality is quite acceptable.
The negative aspect of this company is that they charge a lot before even delivering your products, and they don't do any coupons as other companies do.
Primary Products:
Party Dresses
Wedding Dresses
Winter Clothing
Summer Clothing
Autumn Clothing
Blouses
Women Skirts
Phone:
Email Address:
Hours of Operation:
Mon – Fri 9:30 AM – 5:30 PM
Saturday – Sunday: Closed
Location:
C/COLEGIATA N\u00BA 3 LOCAL BAJO L-10 28012 Madrid, Spain
14. Missi Clothing Wholesale Fashion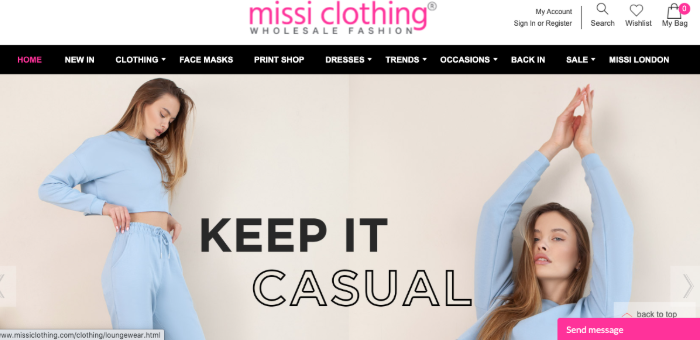 Founded in 2004, Missi Clothing is an international chain of wholesale suppliers. They focus on trendy clothing, accessories, and shoes at affordable prices so that you can sell the hottest fashion without breaking your budget.
With an exceptional customer experience, Missi offers a large inventory of clothing pieces at unbeatable prices. A team of in-house designers creates their designs using unique fabrics to make a product that will enhance your store's environment. They also offer custom printing services and have a solid manufacturing base in the UK, employing local workers.
There are no more hassles of ordering with your debit/credit card, and you can use their secure 3D payment system and pay using your E-cheque or PayPal account. To match your bulk needs with quality standards, we recommend ordering bulk orders from this site.
Primary Products:
Maxi Dresses
Skirts
Shirts
Pants
Blouses
Knitwear
Sweatshirts
Phone:
Email Address:
Hours of Operation:
Monday till Friday 9:30am – 6:00pm (Closed between 1:00pm – 2:00pm on Friday)
Saturday: Closed
Sunday 10:00am – 2:00pm
Location:
Showroom address, Missi Clothing, 43 Broughton Street, Manchester
15. Matterhorn Wholesale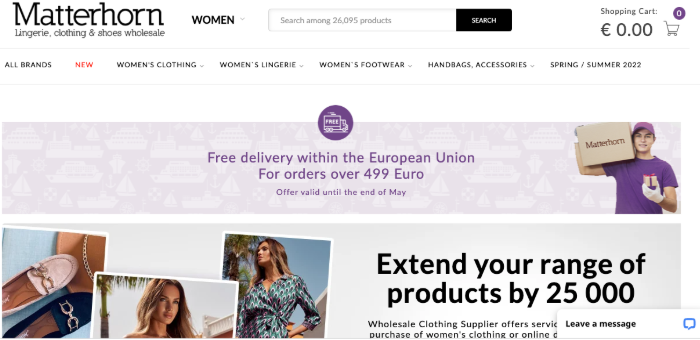 Matterhorn Wholesale is known in Latin America as one of the leading wholesalers of ladies' clothing. They partner with leading clothing manufacturers to deliver the highest quality apparel to boutiques and fashion stores. You can find many different women's trends under one roof with Matter Horn. To top it off, their prices are unmatchable!
They are a major wholesaler and distributor of fashion apparel, and their inventory consists of lingerie, women's apparel and accessories, with a constant turnover of over 25 000 different clothing pieces. As they continuously source for new arrivals every day and can provide tailor-made assortment plans, you would be delighted to become their retailers!
Get the most comprehensive selection of wholesale clothing at the lowest prices. 100% guaranteed delivery to France, Germany, Austria, Switzerland, UK, USA, Czech Republic & Slovakia, Poland, Hungary, Bulgaria, Romania and Lithuania.
Primary Products:
Lingerie
Skirts
Gowns
Bodysuits
Jackets
Plus Size Clothing
Nighties, Sleeping Shirts
Phone:
Email Address:
Hours of Operation:
Location:
MATTERHORN MODA SP Z O.O. 51 KATOWICKA 41-400 MYSLOWICE, POLAND
16. Catwalk Wholesale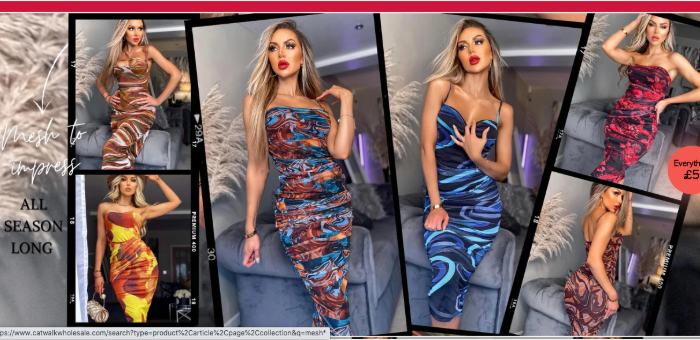 Catwalk Wholesale is one of the largest clothing suppliers in Europe, offering clothing at low prices to all types of small and large retail businesses. This company has aligned with many clothing manufacturers that produce various sizes and designs of clothes to boost your online business.
Catwalk Wholesale is your one-stop shop for fashionable women's clothing and accessories. Their collections are for every small or large retailer and brand owner with a keen eye for detail, quality fabrics, and affordable prices. If you are interested in buying your favorite or latest styles at wholesale pricing, then look no further than Catwalk Wholesale.
Their additional services such as worldwide shipping, order tracking, private labeling, and return/exchange policies within 7 days make them a retailer's dream come true.
Primary Products:
Tops, Blouses, Shirts
Knitwear
Jackets and Blazers
Sports Clothing
Jumpsuits
Stock Clothing
Women Clothing
Phone:
Email Address:
Hours of Operation:
Monday –Friday 10:00 to 7:00
Saturday – Sunday: Closed
Location:
Unit 28, Curtis Industrial Estate OX2 0LX Oxford
How do you buy wholesale items to resell in Europe?
The fashion market is fierce, and everyone is running to gain a considerable market share through their online brand. Being a brand owner, if you wish to buy wholesale items and resell them in Europe, do read below:
Market Research
In the fashion niche, there are many sub-niches. You need to research your target audience and list out their specific needs so that you can satisfy their desires.
Find A Pocket-Friendly Wholesale Clothing Supplier In Europe
Secondly, you need to find one of the most reputable clothing suppliers to buy clothes in different sizes, styles and designs. It will be effortless for you to purchase the proper clothing online since there are many shops to browse, and you can check out their website first before making your decision.
Customize If Requires
Depending on your requirements and wants, you can choose between stock clothes or customized clothes. This will help you know the cost and the average price of each product according to its design, size, materials quality, style, etc.
Time to Resell in Europe
Once you have researched, chosen one of the largest clothing suppliers, and ensured apparel customization, it's time to sell them in Europe and earn money. By marketing your own brand over the internet and other social media platforms, you can reach your target audience while fulfilling their needs.
FAQs about Wholesale Clothes in Europe
Can you dropship from any country?
Yes! You can dropship to any country in the world, and there are some terms and conditions that you have to follow. The shipping options that are available for any supplier's items vary, but most carriers offer services that allow you to ship from the USA, Canada, Australia and Europe.
Which market is best for dropshipping?
You can dropship your products to any country but don't choose countries to ship to randomly. Focus on a couple of countries at first, like those where you have customers, suppliers or partners. Then you can calculate shipping costs, do your marketing and reach the people you want to earn more efficiently.
Which wholesale business is best?
The wholesale textile business is like a GEM to start as you will be dealing with all kinds of textiles, fabrics, and clothes. Just imagine that you have the chance always to be around what you love most: textiles.
Ready to stand out your apparel brand?
When you want to enter the wholesale clothing industry, you must find reliable yet affordable suppliers for wholesale clothes in Europe. But without any experience, this job looks like a hide and seek game. So you should get in touch with a sourcing company that can help you in this regard.
Call us now, Leenline has assisted hundreds of businesses in finding reputable providers of wholesale clothes in Europe. So, you can also take advantage of our services to find the right one for you. We can help you with your sourcing process and provide new collections of clothing at lower prices.
Do you want a successful import business?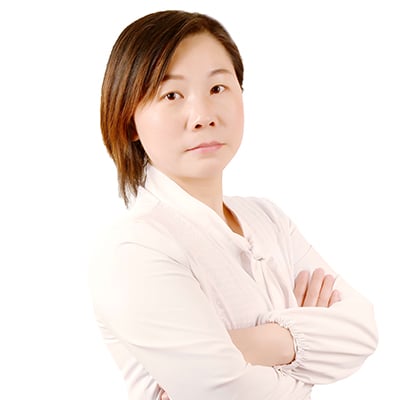 Hey, I'm Sharline, co-founder of LeelineSourcing. We've helped 2000+ customers import from China.
Do you want a better price on product or shipping?
We are sorry that this post was not useful for you!
Let us improve this post!
Tell us how we can improve this post?