Singapore Clothing Manufactures
Leelinesourcing has been in the product sourcing business for over ten years, helping entrepreneurs find high-quality products from reliable suppliers. With our expertise, we can find you the right clothing manufacturers in Singapore to save you up to 40% and get 100% authentic, high-quality products.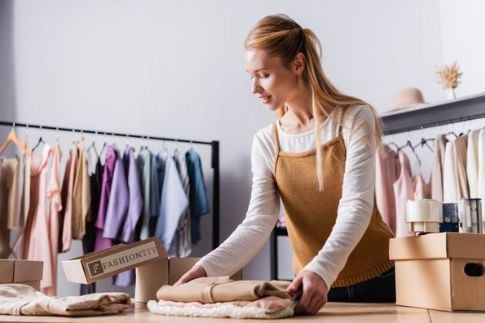 Top 1 Sourcing company in China
With 10 years of experience in china sourcing business
No Risk Free Sourcing No Hidden Fee
You can get Free detailed product quote before order
Trusted by over 2000 Customers
Leeline is your trusted sourcing agent partner in china
Wholesale Best Singapore Clothing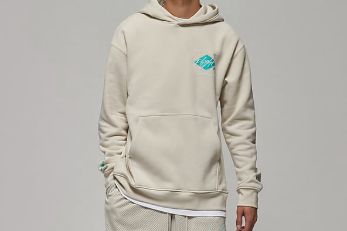 Wholesale Hoodies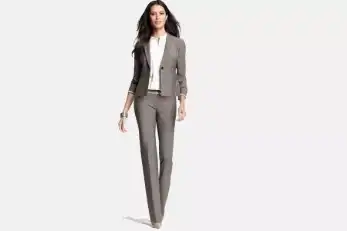 Wholesale Business Wear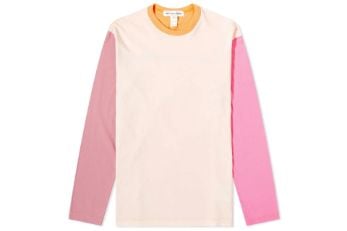 Wholesale Long Sleeve
---
Wholesale Coat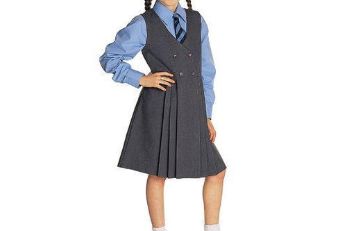 Wholesale School Uniform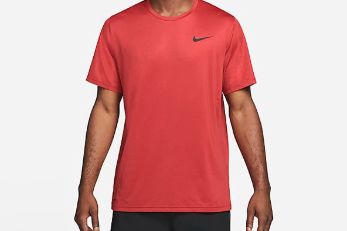 Wholesale T-Shirt
---
Our Singapore Clothing Manufacturing Services Include: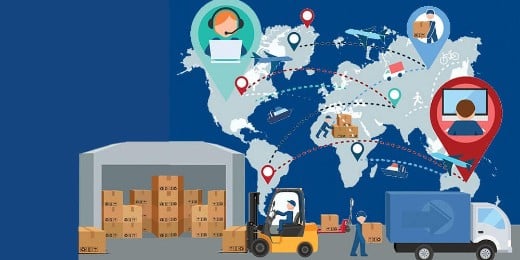 Sourcing Clothing Suppliers
Singapore is a great place to buy bulk goods and save a lot of money. But you should buy from reliable, verified suppliers. Leelinesourcing is one of the world's leading product sourcing agencies. We can help businesses save time and money by outsourcing products and services from trustworthy suppliers.
Clothing Quality Control
Singapore's clothing and manufacturing market is crowded with lots of suppliers. But you need to find the best clothing manufacturing company that can make excellent quality products at affordable prices. At Leelinesourcing, an in-house quality control assessment team works around the clock to ensure our clients receive only the best fashion clothing.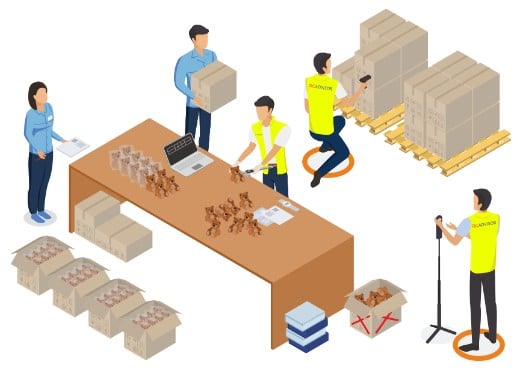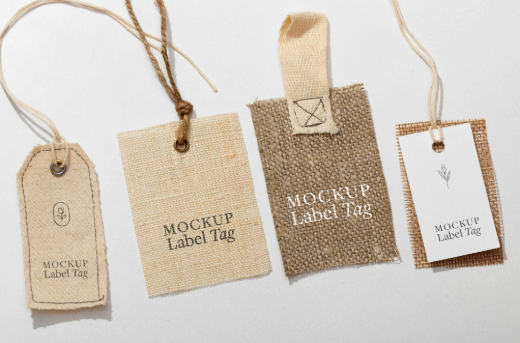 Private Label & White Label Clothing
If you are looking for private label fashion clothing manufacturers in Singapore, you can use Leelinesourcing to get the best ones. Our rigorous analysis identifies the best suppliers and manufacturers who can provide you with custom-made clothing according to your specifications. From production to packaging, we ensure that it meets your requirements.
Dropshipping and Fulfillment
Finding a reliable and experienced clothing supplier for your dropshipping business can be challenging. However, with Leelinesourcing's Dropshipping and fulfillment services, you don't have to worry about searching the web for reliable suppliers. We have the most extensive network of dropshipping suppliers to make your dropshipping business easier.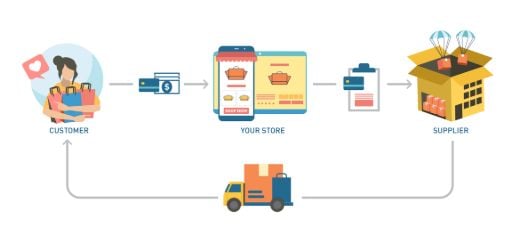 ---
Source Your Singapore Clothing and Make Big Money
We offer the best wholesale price and high quality Singapore clothing to help you boost your business.
---
Top 10 Clothing Manufacturers In Singapore
You probably already knew that clothing manufacturing in Singapore is booming, but did you know that by 2026 it will grow by 3.9% CAGR annually? In fact, over the past two decades, Singapore has emerged as one of the most important garment-producing countries in the world. With its high-quality production facilities and competitive prices, you'd be crazy to miss out on this lucrative opportunity!
Leelinsourcing product sourcing expert team lists the top 10 best clothing manufacturers in Singapore based on popularity, quality, price, and other factors.
You can choose anyone that you think would work best for your business. Let's have a look.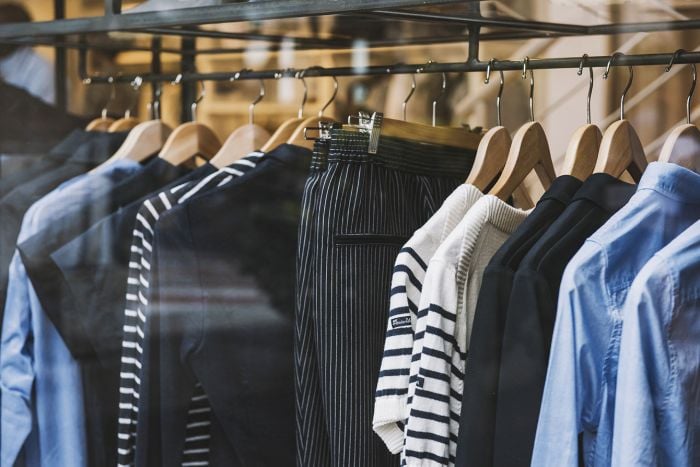 1. Bryden Apparel
Are you looking for a company with solid experience that can help you produce your products? You have found the right place. Bryden is a clothing manufacturer in Singapore that has been around for a very long time, and they have helped many companies to grow.
They have worked with thousands of brands across all sizes, markets, and industries.
And my brand is one of their PREMIUM BUYERS. I choose them for two reasons. Quality is GREAT. Pricing is very less. It increases my branding.
From sourcing fabric and trim to designing tech packs, sample creation, and manufacturing bulk garments, theming, packing, and quality control assessments, they handle the entire supply chain process.
Primary Products & Services:
Product Development
Apparel Production
Labels, Tags, Packaging & Hardware
Custom Print, Heat Transfer & Embroidery
Shipping & Product Photography
T-shirt Printing
Location:
3791 Jalan Bukit Merah, E-Centre @ Redhill, #10-19, Singapore 159471
2. Olivia Garments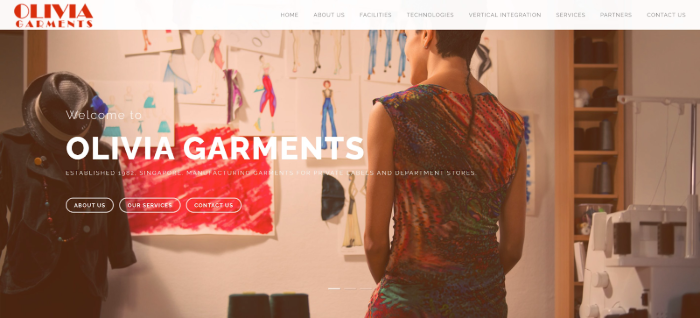 Olivia Garments has been a global leader in the garment business since its inception in 1982. They make custom-printed garments for their private labels or department stores. For each project, they use different fabrics and technologies.
As they've been in the industry for more than 30 years, gain industry experience and in-depth technical knowledge of everything. Now they have become a highly integrated garments company with full fledge capabilities.
Primary Products:
Apparel Design & Manufacturing
Fabric Printing/Sourcing
Custom Sourcing
Custom Arrangements
Apparel Development
Cost Management
Fashion Cycle Management
Dateline and Shipment Management
Delivery
Phone:
Email Address:
Location:
Blk 3013, Bedok Industrial Park E, #04-2090, Singapore 489979
3. Xinye Apparel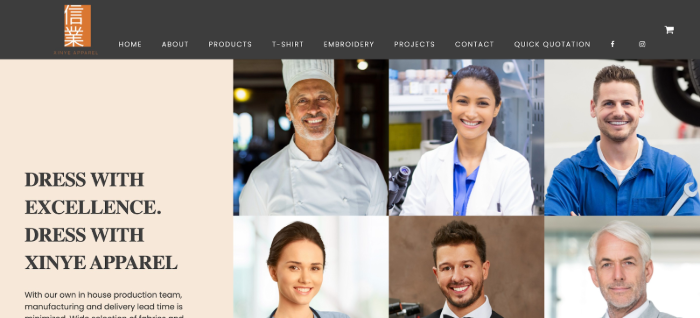 Xinye Apparel is a uniform garment manufacturer. They believe that uniformity is what makes people believe that the apparel they wear is good enough to represent a specific image and to be proud of wearing.
It's not like other clothing manufacturers because Xinye Apparel design and creates every uniform with care, passion, and dedication. This company strives to provide the highest quality bulk apparel production at the lowest possible price.
I have grabbed a couple OF PRODUCTS from them for QUALITY testing. Undoubtedly they are the BEST in the quality. Price is also FAIR.
Primary Products:
All Types of Uniform Garments
T-shirts
Phone:
Tel: 65-6291-2345
Fax: 65-6291 1588
Email Address:
Hours of Operation:
Monday to Friday 9.30 am – 5.30 pm
Saturday (By Appointment Only): 9.30 am – 2.00 pm
Location:
163 Still Rd, Singapore 423996
4. SaltyCustoms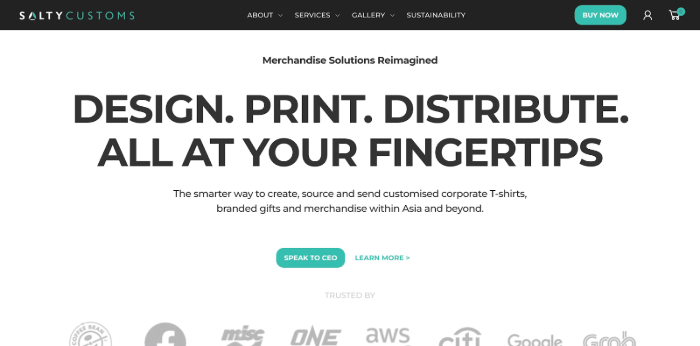 SaltyCustoms have a great selection of uniforms and other products that you can customize. They provide the best quality merchandise so that your company can have the best uniforms.
Their customization increases my CAPABILITY to choose the best products. I can sell customized products. It brings more potential customers. 
When you buy uniforms from SaltyCustoms, you can easily save money and get various products. They are another best choice for all of your uniform needs.
Primary Products & Services:
Design Services
Video Production
Smart Distribution Platform
Multi-Point Delivery
SaltyBasics
Kids Clothing
Home Textile
Retail
Phone:
+65 8533 6623 (Singapore)
+6012 260 0513 (Whatsapp – Global)
Email Address:
Hours of Operation:
Monday – Saturday 9am – 6pm
Location:
Saltyskins Sdn. Bhd. (939518-P) A02-08 Glomac Damansara, No. 699. Jalan Damansara, 60000, Kuala Lumpur, Malaysia.
5. Apparel Empire Pte Ltd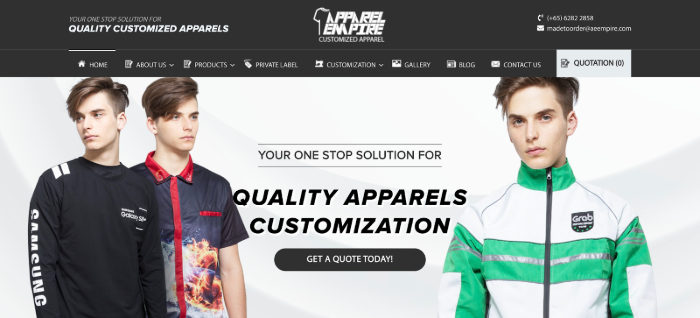 Apparel Empire Pte Ltd specializes in making custom-made apparel. This is one of the best garments manufacturers who help Small to large companies to design brand clothing for specific needs. They can create any type of clothing, from casual shirts to formal shirts. All independent fashion brands love this clothing company.
Apparel Empire takes pride in its products being affordable and functional for every consumer and company. They provide the best customer service and quality products at the lowest possible prices.
Primary Products:
Business Wear
Corporate Gift
Industrial Use
Jacket
Kidswear
Pant
Sportwear
T-Shirt Supplies & Polo
Casual Wear
Phone:
+65-6282 2858
+65-6282 2856
Email Address:
Hours of Operation:
Monday – Friday 9 am to 6 pm (Local Time)
Location:
23 Genting Road Chevalier House, #03-03, Singapore 349481
6. Jonjes Pte Ltd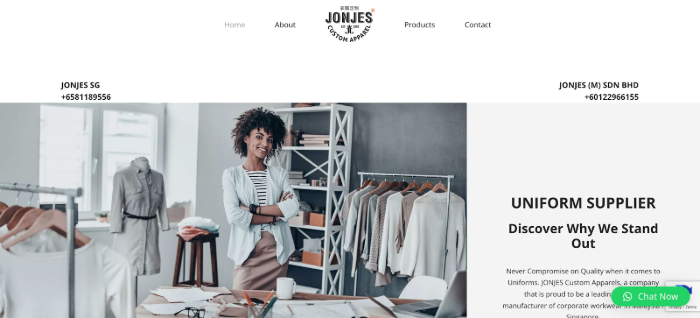 Jonjes Custom Apparels is one of the best companies to buy uniforms online. This company has been around for over 20 years and has been making uniforms for many different people.
Their 20 years of business is VERY IMPRESSIVE. I have chosen them for most of my uniform. Their product are excellent and fully customized based on the given requirements.
They offer custom-made uniforms and standard uniforms. They also provide corporate workwear and work shirts for men and women.
Primary Products:
Polo T-Shirts
Quick Dry Fit
Scrubs
Lab Coats
Gowns
Pants
Jackets
Blazers
Coveralls & Vest
Knitted Garments
School Uniform & Corporate Workwear
Healthcare, Food and Beverage, Security, Restaurants, Hotel
Sportswear, Hospitality, Chefswear and Fundraising T-Shirt Projects
Phone:
Email Address:
Location:
Singapore Office: No. 38 Ang Mo Kio Ind Park 2 Singapore 569511
No. 4A & 4B, 1st Floor, Jln BK 2/11, Bandar Kinrara, 47100 Puchong, Selangor Darul Ehsan, Malaysia.
7. Alpine Creations Pte Ltd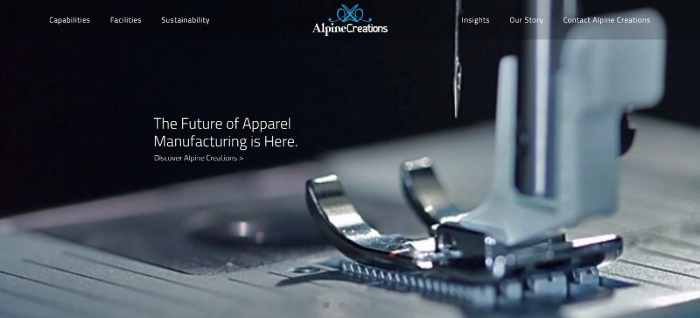 Alpine Creations began in 1981 in Taiwan to make the apparel creation process more efficient and competitive for designers, retailers, and customers alike. With their experience in sourcing, design, quality control, and production, the family business has been able to provide turnkey solutions for the ever-growing complexities of the apparel creation lifecycle.
Primary Products & Service:
End-to-End Manufacturing
Product Portfolio
Fabric Creation
Manufacturing Excellence
Phone:
P: +65-6334 1011
F: +65-6334 7797
Location:
111 North Bridge Road, #12-01 Peninsula Plaza, Singapore 179098
8. Asia Apparel Pte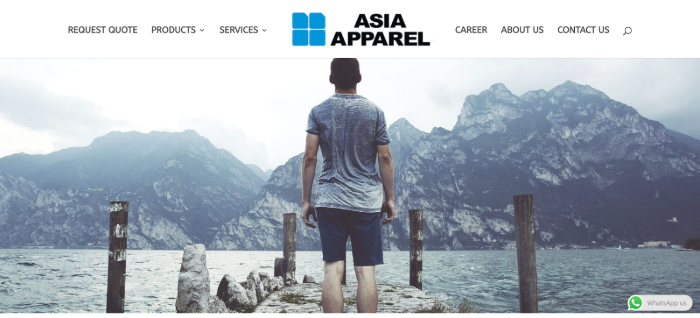 Asia Apparel has a great selection of custom apparel for men, women, and kids. They can customize anything from casual shirts and jackets to business suits and dresses.
They're manufacturing garments that are high quality and affordable. E-commerce retailers can create a consistent brand image by ordering custom clothing from Asia apparel.
My experience with the Asia Apparel Pte has been great. Their customer service gets you the better choice. Their RECOMMENDATIONS help you select the good quality apparels.
Primary Products:
Cotton T-shirt
Dryfit T-shirt
Polo Shirt
Uniform
Muslimah
Hoodies / Sweater
Phone:
Tel: (+65) 6747 0105
Fax: (+65) 6747 0574
Email Address:
Hours of Operation:
Monday – Friday 9.30 am-6.30 pm
Location:
80 PLAYFAIR ROAD, KAPO FACTORY BUILDING, 01-01 SINGAPORE 367998
9. Yimage Singapore PTE. LTD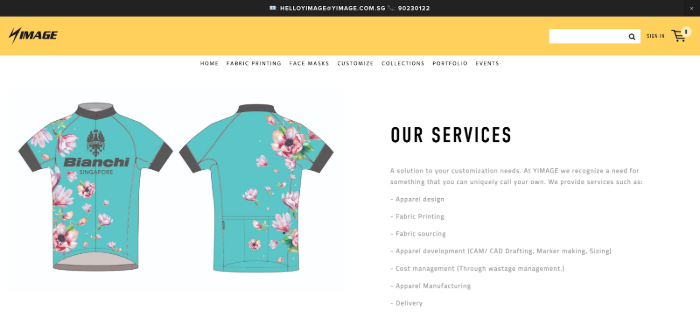 There is a demand for a range of products that can be customized to fit our tastes and preferences. When it comes to customizing products, there is no one better than YIMAGE. Yimage is here to help you with your custom request. At Yimage, you can customize everything you need. You can create your own branded designs.
Primary Products:
Fabric Sourcing
Apparel Design
Fabric Printing
Apparel Development
Cost Management
Apparel Manufacturing
Phone:
Email Address:
Location:
9006 TAMPINES STREET 93, UNIT #03-198, SINGAPORE // S 528840
10. Reve Marketing Singapore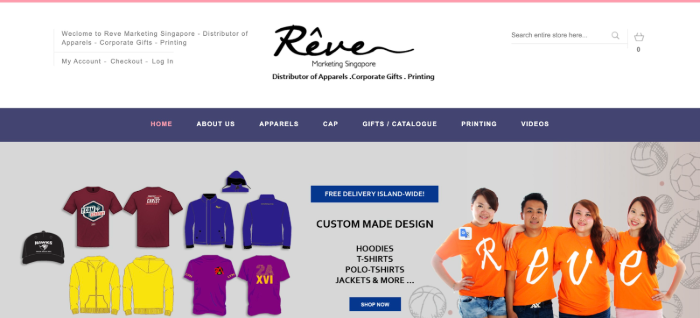 Reve Marketing Singapore is a clothing manufacturer and supplier. They offer various types of the best quality and high-end fashion.
You can order customized clothing from them. They can create any kind of design that you want. You just need to provide the materials they need. They can do the cutting, sewing, and customization.
Primary Products:
T-Shirts
Polo T-Shirts
Hoodies
Jackets
Long Sleeve
Drifit Interlock
Custom Made
Hand Towels
Phone:
Email Address:
Location:
39 Woodlands Close, MEGA@, Woodlands, #07-19, Singapore 737856
How can you start your own clothing line in Singapore?
If you want to start your clothing line in Singapore, you first need to choose a concept for your clothing line. The most important thing is the clothing business concept because this will decide the entire look of your clothing line.
Now, let's explore the ways through which you can start your clothing line in Singapore.
Step1: Identify your target market.
Before starting your clothing line, it is vital to identify your target market. To achieve success, it is crucial to select a niche and try to sell suitable products for that particular niche. This will help you to create a niche product that is unique and has a high demand.
Step2: Develop a clothing business plan.
After that, you need to develop a business plan. This should include information about the products you will be selling, the services you will provide, the marketing strategies you will use, and your financial plan.
Step3: Get your products manufactured.
Once you have developed your business plan, it is time to get your products manufactured. You can manufacture your products in many ways. You can either make your clothes or hire a manufacturer to do the job for you. Regardless of the option you choose, don't compromise on quality.
Step4: Choose a unique brand name and logo.
Once you have manufactured your products, it is time to choose a unique brand name and design a logo.
Step5: Develop your marketing strategy.
Now that you have chosen a unique brand name and a logo, it is time to develop your marketing strategy. How will you market your products? What type of advertising do you intend to use? Do you want to go online or offline?
Step6: Establish your website.
Before launching your business, you need to establish your website. Your website should be well designed and include all the information you need to market your products.
Step7: Launch your business.
You have finally done it!
FAQs about Clothing Manufacturers in Singapore
How do I name my clothing brand?
The name of your business is the most critical part of branding. The rule of naming is that it's essential to start with a simple good name. It doesn't make sense to spend countless hours and resources coming up with a name that no one can spell (it is difficult to pronounce or is hard to remember). The reason is simple: if nobody knows your brand, there's no reason to think they'll buy it. So, make sure your brand name is something that people can easily pronounce and spell.
What are the 3 types of brands?
The 3 Types of Brands are:
• A company or corporate brand.
• A product brand.
• A personal brand.
What is the difference between brand and manufacturer?
A brand is a company's reputation. It's everything the company represents, whether through its products, employees, or services. When looking at the manufacturer of a product, you're typically looking at the company that made it and put it into the marketplace. A manufacturer's job is to make the product.
The brand is the company's reputation for quality. A brand is built through word of mouth. The more good things people hear about your brand, the more powerful your brand becomes. Bad products or a poor reputation can damage a brand.
What's Next
When looking for new suppliers to choose from, it's important to find a company that has the products you need and can deliver them in good quality. It's also essential to look for suppliers who will take your business seriously and work hard to ensure that you continue to order from them for the long term.
So, whether you're looking for a clothing manufacturer who can provide you with an affordable solution, consider choosing one of the best clothing manufacturers in Singapore.
Get in touch with us if you have any questions about your product sourcing. Our sourcing experts can help you locate the right manufacturer in Singapore, depending on your needs.
Do you want a successful import business?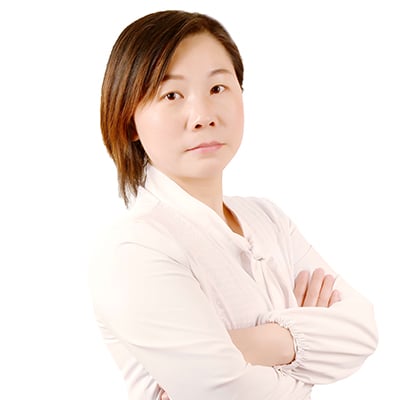 Hey, I'm Sharline, co-founder of LeelineSourcing. We've helped 2000+ customers import from China.
Do you want a better price on product or shipping?
We are sorry that this post was not useful for you!
Let us improve this post!
Tell us how we can improve this post?