Australia Clothing Suppliers
Finding top clothing suppliers in Australia is challenging. Leelinesourcing offers a wide range of services, including supplier sourcing, product quality control, product photography, packaging, shipping, etc., to help your business grow. Leelinesourcing's goal is to help you succeed by providing you with the right suppliers and services.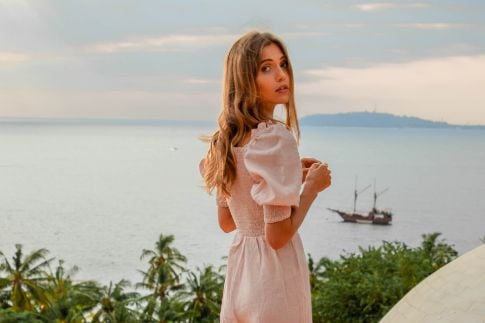 No Risk Free Sourcing No Hidden Fee
You can get Free detailed product quote before order
Wholesale Best Australia Clothing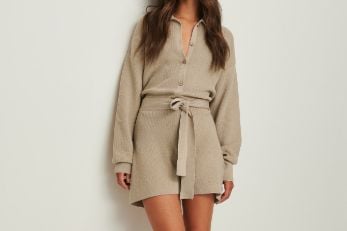 Wholesale Playsuits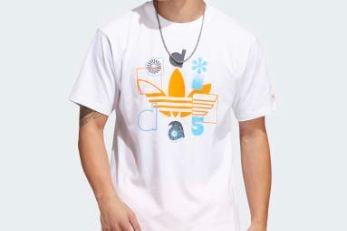 Wholesale T-shirts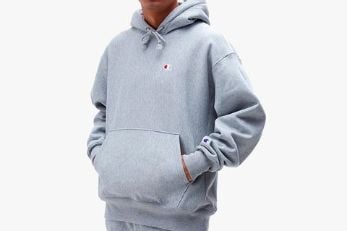 Wholesale Hoodies
---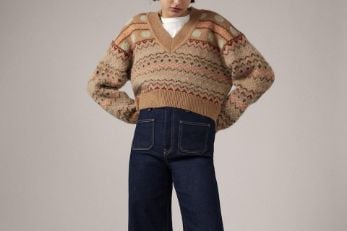 Wholesale Knitwear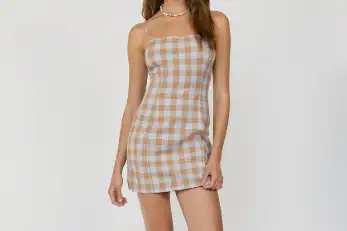 Wholesale Dress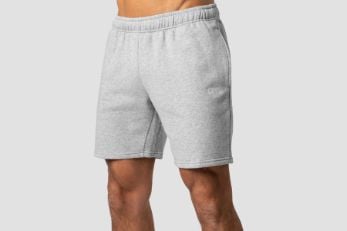 Wholesale Shorts
---
Our Australia Clothing Manufacturing Services Include: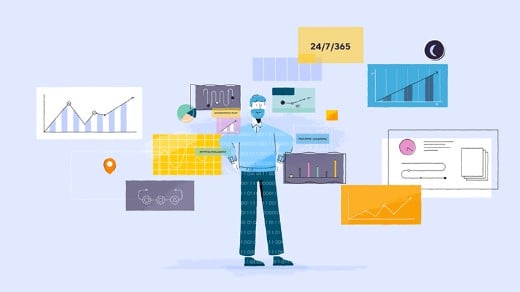 Sourcing Clothing Suppliers
Our knowledgeable and experienced expert team will help you find reliable product suppliers for your needs. A product sourcing expert team will handle the whole process of sourcing and delivering. You can get the best deal for your budget.
Clothing Quality Control
A product sourcing expert team inspects the whole process of manufacturing to check the quality of all the products. We maintain high standards of quality and service in product sourcing, packaging, delivering, etc. So, your customers can be sure they are getting top-quality products.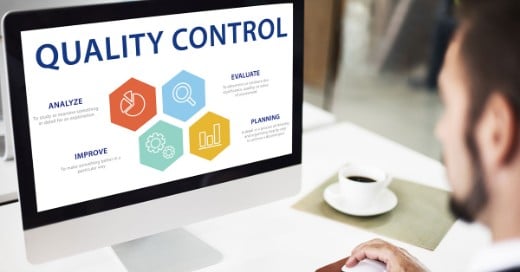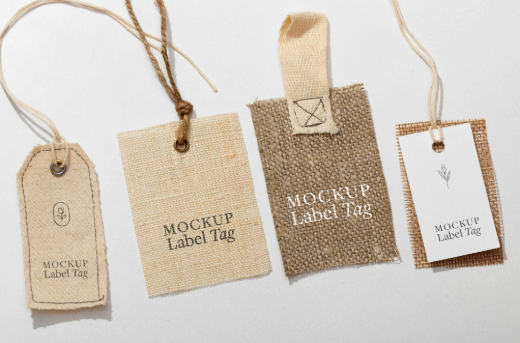 Private Label & White Label Clothing
You can sell your own branded products from scratch by using Leelinesourcing private & white label products services. Our team will source your products, remove all the tags and repack them with your brand name and logo. You will get unique packaging.
Dropshipping and Fulfillment
Leelinesourcing provides a full dropshipping service, including product sourcing, design, development, production, warehousing, shipping, fulfillment, and customer support. We provide door-to-door courier service for your products around the world. You can satisfy your customers by offering express shipping to most countries worldwide.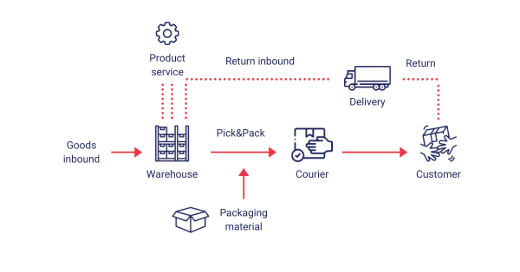 ---
Hear it from fellow Clothing Wholesaler
I have been working with Leelinesourcing for the last 3 years. They have helped me get the best quality products at competitive prices. I am delighted with their service and would recommend them to everyone.
– David, California
---
Source Your Australia Clothing and Make Big Money
We offer the best wholesale price and high quality clothing to help you boost your business.
---
Top 10 Clothing Suppliers In Australia
Finding suitable clothing suppliers in Australia can be a difficult task. Some clothing wholesalers will take your money and never deliver the goods.
But worry no more. Our decades of experience can save you time and effort in finding the right clothing manufacturers. And find Australian fashion wholesalers who are the perfect match for your business.
We know the ins and outs of the industry. So we can connect you with Australian fashion wholesalers whose shipping costs and minimum order requirements fit your business.
Check out these top 10 Australian fashion wholesalers for any of your online clothing needs.
1. Style State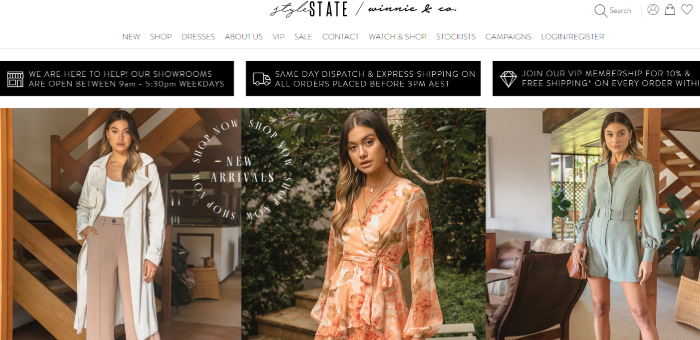 Style State is a wholesale supplier always on the lookout for the latest fashion trends. New arrivals are available every Monday, ensuring customers have something new to wear.
These Australian fashion wholesalers deliver their releases straight to customers' emails as a shoppable newsletter. That keeps shoppers updated on the latest fashion trends, allowing convenient shopping. Keep your look sharp with their trendy apparel. Their same-day dispatch and express shipping keep fashion enthusiasts looking trendy.
Style State's in-house designers can help a local fashion store outshine others. They test every garment before it's manufactured. So you can be sure everything is of high quality and Australian sizing. Their clothing and accessories, such as style HQ, are available at wholesale pricing.
Primary Products:
Dresses
Jumpsuits
Knitwear
Jackets
Coats
Tops
Bottoms
Playsuits
Sets
Phone:
Email Address:
Hours of Operation:
9 am – 5:30 pm on weekdays
Location:
SYDNEY SHOWROOM: Shop 1, 83-97 Kippax Street, Surry Hills, NSW 2010
MELBOURNE SHOWROOM: 117 Langridge St, Collingwood, VIC 3066
2. Palm Collective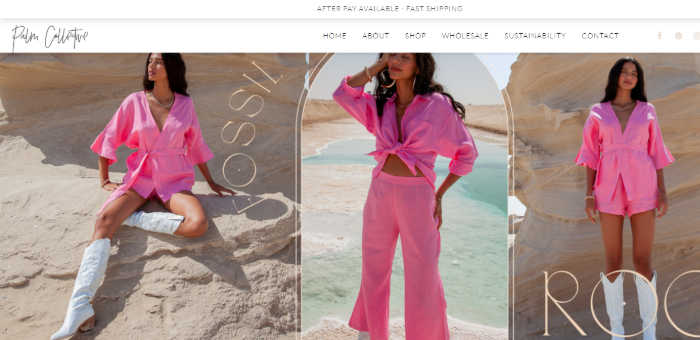 Palm Collective offers exclusive wholesale code and quality women's sustainable clothing options at a wholesale price. Their dresses and blouses can match any verge design wearable device. Palm Collective works with up-and-coming boutiques in both Australia and New Zealand. The wholesaler guarantees unlimited women's linen fashion wholesale opportunities.
Palm Collective distinguishes itself from other brands through its quality women's clothing. These clothing wholesalers want to make fashion fun, versatile, and accessible to everyone. Their pieces are all about slow fashion.
Primary Products:
Dresses
Bottoms
Tops
Accessories
Playsuits
Accessories
Phone:
Email Address:
Hours of Operation:
Monday to Friday 10 AM-4 PM
Location:
1/ 49 Leyte Ave Palm Beach QLD, Australia 4221
3. Hingto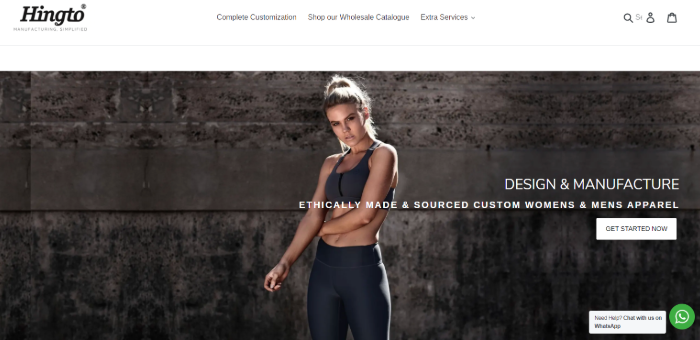 Hingto offers woman's fashion options to get your business up and running. The distributor deals with the highest quality apparel to stay ahead of the curve. Hingto focuses on quality service and client satisfaction. These Australian fashion wholesalers provide top-quality apparel for any fashion start-up.
Hingto offers 24-hour customer support and the trendiest clothing brands. So Hingto will always be your only choice for your business's apparel needs. Hingto clothing wholesalers offer a complete customization service for apparel retail businesses.
Primary Products:
Swimwear
Athleisure
Streetwear
Merchandise
Activewear
Sportwear
Phone:
Email Address:
Hours of Operation:
Monday to Friday 9 AM-5 PM
4. Spicysugar Fashion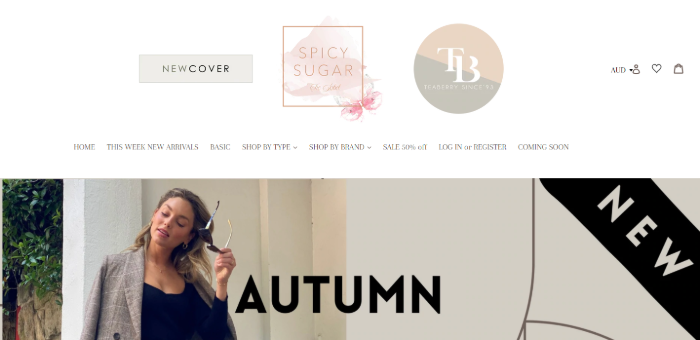 Spicy is your widest and exclusive collection of the latest in women's fashion. This is Australia's premier online ladies' fashion wholesaler offering the latest styles. Their extensive range includes trendy day wear and evening wear.
So whatever the occasion, Spicy sugar fashion got your back. Spicy loves fashion and knows that the right clothing can make someone feel like a new person. Spicy will help you find an outfit for the evening and special occasions. Their fast fashion market labels have everything you need.
Your clients can get a trendy jacket for a night out or casual jeans to wear to work. Spicy sugar fashion has Australia's latest fashion trends at its fingertips. So you're guaranteed to find everything you want.
Primary Products:
Biker Jackets
Tops
Leggings
Denim Pants
Cardigans
Tops
Dresses
Jumpers
Phone:
Email Address:
Hours of Operation:
Monday to Friday 9 AM-5 PM
Location:
88 Cooper Street, Surry Hills NSW 2010
5. Orientique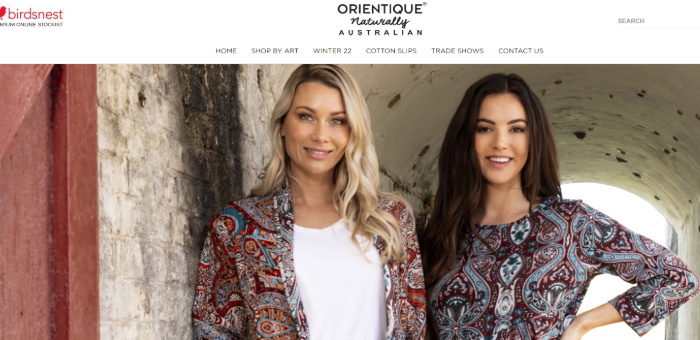 Are you looking to stock eco-friendly fabrics? Orientique is your ideal size clothing wholesaler in Australia. All their garments come from organic cotton, which helps conserve the surroundings.
Resort wear made from organic cotton is always much more sustainable. They are also softer and more comfortable to wear. Orientique wants to make a difference globally with its organic cotton apparel. Orientique is Australia's leading cotton label for quality fabric and artistic prints.
For over 40 years, Orientique has designed beautiful clothing that enhances any figure. Their pieces are trendy, so you can wear them season after season. The Orientique Label has been a mainstay in the Australian fashion industry. It boasts a unique blend of contemporary and classic own flair styles.
Primary Products:
Biker Jacket
Paisley Long Sleeves
Jeans Reversible
Linen Dress Bubble
Phone:
Email Address:
Hours of Operation:
Monday to Friday 9 PM-5 PM
Location:
Unit 2/53 Southgate Ave Cannon Hill QLD 4170
6. OCC Apparel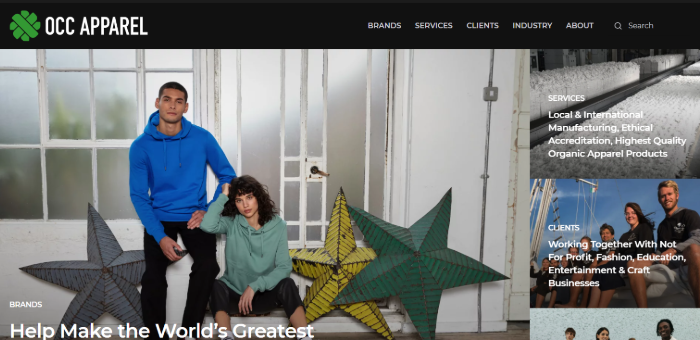 OCC Apparel embodies everything about sustainable slow fashion. They are experts in ethical, sustainable, and organic branded apparel. Every step of their process focuses on creating beautiful, quality ladies' garments.
OCC Apparel believes that directional fashion should be accessible to everyone. So they offer a wide range of wholesale price points and styles to suit any budget or taste. Their wide range of blank apparel comes from ethical brands. So you can always be sure your products are of the highest quality.
Plus, their stock is always fresh. So you can get started with your new Australia wholesale clothing line right away. And if that's not enough, this plus-size clothing wholesaler will always be there to help in any other way.
Primary Products:
T-shirts cotton
Clothing
Organic cotton
Jumpers
Phone:
Email Address:
Hours of Operation:
Monday to Friday 9 AM – 4:30 PM
Location:
Sales Office & Showroom: Unit 11, 7 Traders Way, Currumbin QLD 4223, Australia
7. Valeria Label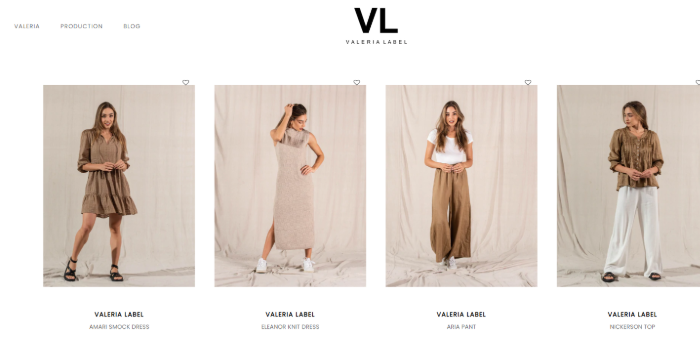 Valeria Label is a top Australian wholesale fashion brand for stylish women. Australian fashion retailers love imported European designer collections. Valeria is the label for the modern woman who knows what she wants and isn't afraid to go after it.
Valeria manufactures clothing using eco-friendly fabrics to create trendy and modern boho-style fashion. It is home to someone looking for a new date-night outfit or something to wear to the office.
Valeria Label gives you the latest looks without breaking the bank. Valeria Label offers new arrivals every week. So you can get on-trend women's fashion at affordable prices tailored to your needs and budget.
Primary Products:
Knit Dresses
Smock Dresses
Nickerson Pants
Aria Pants
Phone:
Email Address:
Hours of Operation:
Monday to Friday 9:00 PM to 5:30 pm
Location:
2-98 Kippax Street, Surry Hills, NSW
8. Simply Wholesale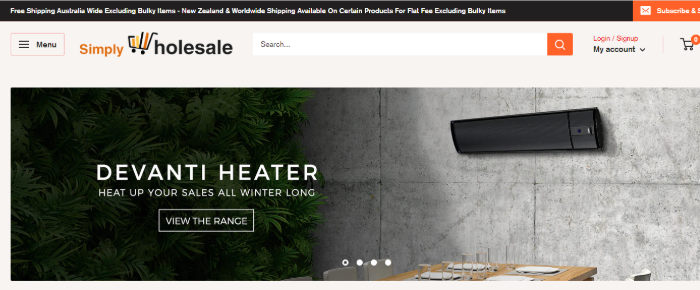 Simply Wholesale is just a fashion brand offering personalized service and products sourced from reliable wholesale suppliers. Whether you're looking for everyday items or something special, you can be sure to find them here.
The wholesaler has enough stock to keep your ethical and ecological business running. Most items are available for dispatch on the same day. So you will never run out of inventory.
This is the perfect wholesale supplier of quality adult and baby clothing. Their Australian physical stores are open 24/7, allowing for convenient online shopping.
Primary Products:
Toys
Adults Clothes
Electronics
Jewelry
Phone:
Email Address:
Hours of Operation:
Monday to Friday 9 AM-5 PM
Location:
HARRISDALE, WA 6112, Australia
9. BlankClothing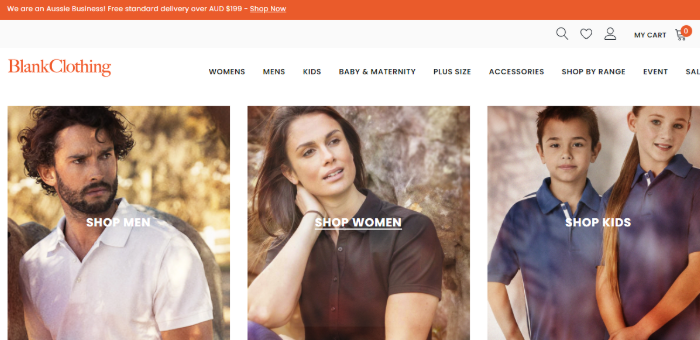 Express your style with Australia's leading wholesale clothing supplier, Blank Clothing. Their massive range of colors, styles, and sizes means there's something for everyone.
Sign up today and start sourcing for your wholesale clothing store. Their fast delivery service across Australia means you order a particular brand anytime. Blank Clothing is the perfect clothing wholesaler for formal occasions or promotions clothes.
Check out their wide selection of polo shirts, hoodies, hats, and basic t-shirts. They are all available at reasonable prices. Their tiered discount system means the more import boho wear you buy, the more you save! So stock up and save big.
Primary Products:
Hoodies
Maternity Clothes
Blank T-shirts
Aprons
Baseball Caps
Polos
Hoodies
Phone:
03 9028 0391
02 9146 5350
Email Address:
Hours of Operation:
Monday to Friday 9:00 am to 6:00 pm
Location:
10. Gally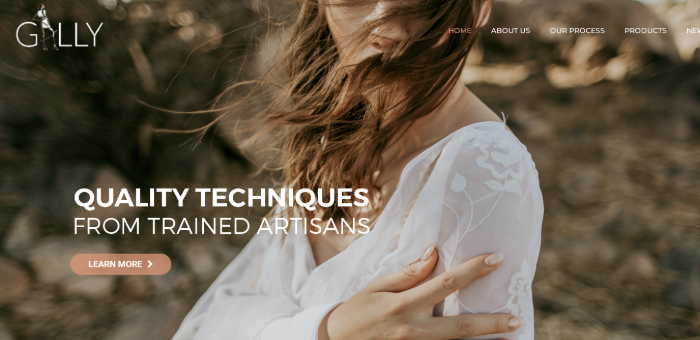 Are your clients looking for a creative edge in their wardrobe? Gally Indian-made products got them covered. These products are always on-trend. Their design inspirations will take your retail clothing business to the next level. This is an Australian Women's fashion brand for all your alternative fashion needs.
It is a top clothing wholesaler providing customers with the best products. They inspect all their samples and products to ensure that they are of the highest quality. Their stylish and affordable clothing options are perfect for any fashion-savvy customer.
Their high-quality fabrics and unique designs will keep your clients looking trendy. Also, this wholesaler believes in providing great value for your money. So their products are always friendlier priced.
Primary Products:
Homewares
Leather Jackets
Resort Wear
Yarn-dyed Tops
Cover-ups
Swimwear
Phone:
Email Address:
Hours of Operation:
Monday to Friday 9 AM-5 PM
Location:
20/93 Dow Street, Port Melbourne 3207
How do you start an online clothing business in Australia?
There has never been a better time to start an online clothing business in Australia. The continued growth of Australia's ecommerce market has made online business enticing. But how do you know where to start? The process can sometimes feel complicated and puzzling when unsure where to begin. You can now relax because these steps will help you get your online fashion lines up and running.
Choose a niche and identify your target audience.
Register your business and domain name.
Invest in the latest fashion.
Identify a marketing strategy for your online store.
Create a logistic plan.
Select your payment methods.
The online apparel business presents a lot of opportunities. But those opportunities also come with lots of competition. So, it is vital to find ways to stand out in the saturated online fashion marketplace.
FAQs about Wholesale Clothing Suppliers in Australia
Where do Australian boutiques get their clothes?
Australian fashion boutiques are synonymous with stylish and trendy clothes. But where do they get their inventory? Most of their clothes come from local leading women's fashion wholesalers. But you can outsource from your India wholesaler or overseas women's clothing suppliers.
Can you relabel a product and sell it?
Yes. You can relabel and sell shoes or clothes as new or different brands. It is a great way to move inventory that is not selling well or get rid of outdated products.
Is opening an online boutique worth it?
Opening an online fashion boutique can be a great way for a fashion lover to turn a passion into a business. Of course, there are some challenges involved in running quality boutique brands. But many potential rewards come in equal measure.
How many designs do you need to start a clothing line?
There is no one-size-fits-all answer to this question. The designs you'll need to start an online fashion brand will depend on many factors. They include the type of clothing you're selling, your target market, and your budget. Consult a fashion designer or industry expert to determine the designs you need.
What's Next
Starting an online fashion business in Australia is straightforward. But finding the right wholesaler can be overwhelming for an entrant in the fashion industry. But these leading clothing wholesalers will keep you up and running.
Are you wondering how to outsource clothing from China? Worry no more as it is so easy with LeelineSourcing by your side. Contact us today to get started!
Do you want a successful import business?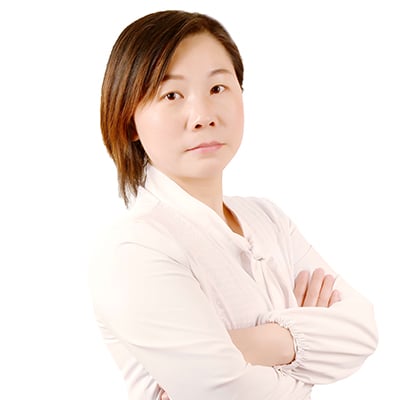 Hey, I'm Sharline, co-founder of LeelineSourcing. We've helped 2000+ customers import from China.
Do you want a better price on product or shipping?
We are sorry that this post was not useful for you!
Let us improve this post!
Tell us how we can improve this post?